When it comes to choosing a bed for your bedroom, options can become overwhelming. There's plenty to consider in terms of comfort, style, and more to pick your perfect bed. You will want to ensure you make a choice that fits all your needs when it comes to getting a good night's sleep.
In this review we'll take a close look at the Petersfield Tufted Upholstered Low Profile Platform Bed to see if this is a good furniture piece worth buying?
Petersfield Tufted Upholstered Low Profile Platform Bed from Alcot Hill
The Petersfield Tufted Upholstered Low Profile Platform Bed is a great choice for your bedroom. Its elegant panel-style upholstery and sophisticated design make it a bed fit for royalty. The fabric is soft and durable, making it a plush and comfortable bed for Queen, King, and California King-sized mattresses.
Overview:
The bed frame is made of solid and manufactured wood and has wooden slats (no box spring required).
The weight capacity is 800 lbs. for the queen and king size.
It is compatible with an adjustable base for ultimate convenience and comfort.
Fabric is made of 100% polyester for easy maintenance.
The Petersfield Platform Bed is a gorgeous centerpiece to any room – its light beige color compliments existing furniture and matches overall bedroom designs seamlessly. The aged brass nailhead trim gives the bed dimension and distinction, bringing a modern touch to the overall design. The headboard is padded, which makes leaning back comfortable. It is a perfect fit for your bedroom, with lasting comfort for a great night's sleep.
Note: The Petersfield bed comes with a headboard, footboard and slats already included in the price.
Dimensions:
The Petersfield Platform Bed is available in three sizes: Queen, King and California King. This makes it a perfect choice for a master bedroom or a larger guestroom. Unfortunately there is no twin or full size. Check out the Jennie Upholstered Low Platform bed, if you're looking for a stylish bed in twin or full size. The headboard of the Petersfield has the same height for all three sizes and is approximately 53″-54″ high.
The Queen size measures: 53.1″ high x 66.5″ wide x 88.4″ long,
The King size measures: 53.94″ high x 83.27″ wide x 88.39″ long
The California King size measures: 53.5″ high x 79.33″ wide x 91.93″ long.
The legs of the bed are made of rubberwood and are approximately 3.94 inches high. The Petersfield is considered a low profile bed, and it's height from the floor to the top of the side panel is 13 inches.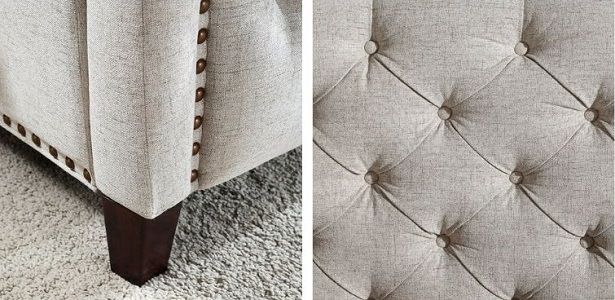 There are 13 solid wood slats included to support your mattress and there are 3 center support legs, making this bed durable and sturdy. If you're planning on using the Petersfield bed with an adjustable base, then all you have to do is remove the slats and place the adjustable base inside the existing bed structure. Keep in mind that the recommended mattress thickness of the bed ranges from 8-14 inches for maximum comfort and support. If you place a mattress that is higher than 14″ then it might be taller than some parts of the footboard.
Petersfield Tufted Upholstered Low Profile Platform Bed Review
Now that you've seen what the Petersfield Platform Bed has to offer, what do customers have to say about it? Overall, the bed has amazing reviews – it is currently rated at 4.8 of out 5 stars, with 2,093 reviews to date. Here are some details of reviews customers have left:
Pros:
Great quality and looks expensive and gorgeous in a bedroom;
Comfortable fabric and bedframe that works perfectly with adjustable mattresses;
Easy to install and provides a lot of base support;
Overall beautiful and true to the photos as a high-quality product.
Cons:
Some slats may damage or break after a period of time;
Instructions may not fully cover assembly;
Fabric may come a little damaged in some areas.
A few customers also noted a few missing pieces upon delivery of their bed. When your bed order arrives, check to make sure all your pieces are included and there is no damage. If you find that there is an issue with your order, contact Wayfair's customer support right away to sort out the issue.
Bottom Line – Is it Worth the Purchase?
The Petersfield Tufted Upholstered Low Profile Platform Bed has tons of great reviews from customers, and overall many are thrilled with what the bed offers. It's comfortable, stylish and the perfect piece for your bedroom. The Petersfield Platform Bed's price ranges from $499.99 – $826.20 depending on the size and if it's currently on sale. Keeping in mind all the customer reviews and its features, the Petersfield bed is a great furniture piece for just about any bedroom.
Disclosure: This post features affiliate links, which means that we may get compensated for items purchased through our site, at no additional cost to the reader.
Please note: the prices and ratings mentioned in this post were last updated on March 11, 2021. For up to date prices, please click on the link of each product.