A great night's sleep in a comfortable bed is priceless – there's no question about it. But beyond leaving you feeling rested and refreshed, what else can you get out of your bed?
The Morphis Upholstered Storage Platform Bed brings more to the table than your average bed – the frame transforms into a large storage area for your varied needs. Unassuming at first glance, the Morphis Storage Bed easily lifts up to reveal the wide space available to hold clothes, bed sheets, pillows, and much more under your mattress.
If your bedroom is small and you don't have enough storage space inside (for example, there is no room for a dresser or wardrobe), then this is a great furniture piece that you should consider.
Morphis Upholstered Storage Platform Bed by Brayden Studio
The Morphis Storage Bed is a practical and functional bed that can be used in a kid's bedroom, master bedroom or a guestroom. Its stylish tufted design with soft upholstery makes for a classy piece, too – it's modern and chic, matching your room design seamlessly.
Overview:
Available in four mattress sizes: Twin, Full, Queen and King.
The bed frame is made from solid wood and is upholstered in linen or velvet (faux leather option is also available).
Deep and spacious easy-access lift-up storage using strong hydraulics mechanism.
Comes with 1 year warranty.
The Morphis Storage Bed comes in two styles: gray linen and gray velvet (there is also a black faux leather option available). These varied textures give you options when it comes to the look and feel you're aiming for in your bedroom, meeting your overall design aesthetic. With no need for heavy-lifting, the gaslift mechanism makes opening and closing the storage space under the mattress a breeze.
Dimensions:
The Morphis platform bed is sold in 4 sizes, which fit a twin, full, queen or king size mattress (there is no California King size available). The headboard is 39″ high, which includes the height of the legs. There is a small underbed clearance of 3″.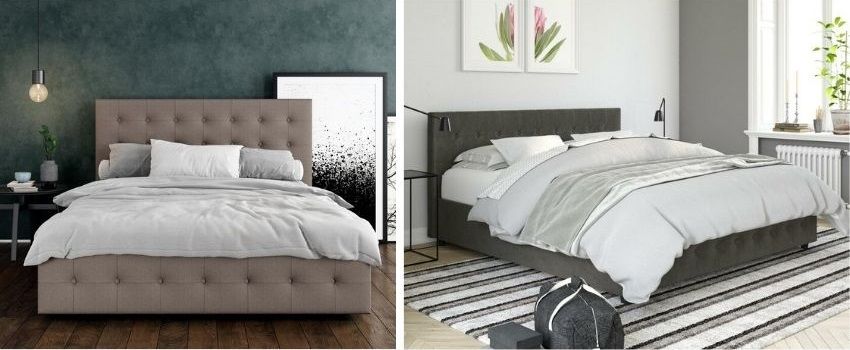 Below you can see the dimensions of all 4 sizes and the maximum weight capacity it can hold.
Twin size is 41.5″ wide x 79.5″ long. The weight capacity is 250 lbs.
Full size is 56.5″ wide x 79.5″ long. The weight capacity is 450 lbs.
Queen size is 62.5″ wide x 85″ long. The weight capacity is 500 lbs.
King size is 79″ wide x 85″ long. The weight capacity is 500 lbs.
There is a recommended mattress thickness of 8″, while the maximum mattress thickness is 12″ which you should not exceed. Also, keep in mind that the weight capacity for the lift mechanism is 88 lbs. so your mattress should not weight more than that. The bed comes with wooden sprung slats, which are comfortable to sleep on whether you have a memory foam mattress or spring mattress. This means that there is no box spring required here.
The height of the storage compartment is approximately 10 inches, which is deep enough to store lots of items. The wide storage capacity makes the Morphis Platform Bed a great addition to any bedroom, giving you the opportunity to neatly hold all your items in a convenient, easy-to-access location.
Morphis Upholstered Storage Platform Bed Review
Does the Morphis Upholstered Storage Platform Bed meet customer expectations? Overall, the bed has a 4.6 out of 5 star rating, with 1,768 reviews to date. Those who've purchased the Morphis Storage Bed have expressed plenty of great things about the piece:
Pros:
Hidden storage very accessible and holds plenty of items;
Strong structure that supports comfortable sleep;
High-quality product that last long-term;
Comfortable bed that's easy to put together and use.
Cons:
Slats may damage or break after repeated use;
Some parts reported missing upon delivery.
Some customers also reported waiting a long period of time for all parts to ship, as many seemed to ship in two separate packages. There were some people who said that the assembly was a tedious process and they needed the helping hand of a second person. However, the positive reviews are overwhelming, with customers being very happy about the storage space, sturdiness of the bed and the beautiful design of it.
Bottom Line – Is It Worth the Purchase?
The Morphis Upholstered Storage Platform Bed is a great purchase for your bedroom storage needs. There's plenty of space available to hold your various items in a compact and easily-accessible space, while still exceeding your expectations for a bed. The design is easy to match with your room furniture, as a functional yet stylish centerpiece.
At the time of writing this review, the price of the bed ranges between $584.99 – $689.99 (with a 20% discount). It's well worth the price – you get a high-quality bed with the extra element of wide storage! If you're looking for a platform bed that gives you more space to decorate your bedroom, look no further: the Morphis Storage Bed is all you need.
Disclosure: This post features affiliate links, which means that we may get compensated for items purchased through our site, at no additional cost to the reader.
Please note: the prices and ratings mentioned in this post were last updated on March 23, 2021. For up to date prices, please click on the link of each product.