A night of comfortable sleep is an integral part of a healthy lifestyle. The most important ingredient for a good night's sleep, which also happens to be the most neglected one, is a good quality bed.
Williams Upholstered Bed not only fulfills this need but does so with style as this is one of the most beautiful pieces you can find online to embellish your bedroom. This product is geared towards consumers who value comfort, premium design, and top-notch quality. The bed is made from top-grade material, making it a smart choice from both design perspective and value for money.
Williams Tufted Upholstered Low Profile Platform Bed by AllModern
The frame is constructed using solid engineered wood, adding to the durability and solid structure. The headboard is upholstered with polyester linen and is stuffed with foam. The bed is supported by tapered and splayed legs, giving it a mid-century modern silhouette look. This platform bed doesn't require a box spring, adding to the comfort and convenience promised by the manufacturer.
Overview:
There are two colors to choose from: light gray or dark gray linen.
The Williams Platform Bed is available in four sizes: full, queen, king, and California king.
The weight capacity of the bed is 500 pounds.
It's compatible with an adjustable base.
Comes with 1 year warranty.
The bed comes in two colors, Light Gray and Dark Gray. Both neat-looking designs are compatible with a wide range of aesthetic choices.
Dimensions:
This product is sold in 4 different sizes (full, queen, king, and California king) and their respective dimensions are given below. As you can see the height of the headboard is 48″ approximately for all sizes.
Full size is 47.44" high x 63.0" wide x 84" long.
Queen size is 47.44" high x 60″ wide X 80″ long.
King size is 47.44" high x 84" wide x 89" long.
California King size is 47.44" high x 81" wide x 93" long.
The underside bed clearance is 6 inches giving the bed a fairly low profile. The recommended mattress thickness for this bed is 10 inches. There are slats included with the bed, so you just need to place your mattress on top and you're all set to use the bed. You can also remove the slats and place an adjustable base inside the frame, giving you added comfort and flexibility. The legs of the Williams bed are made of hardwood and have an Acorn color.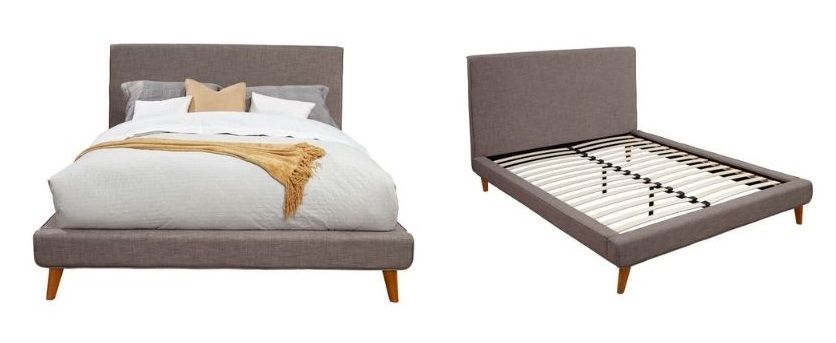 Although the Williams Bed has an underbed clearance of only 6 inches, there is still some space to put away some storage boxes underneath. Alternatively you can also check out the Morphis Upholstered Storage Platform Bed which has a similar design and lift top mechanism, so you can store loads of items inside.
Williams Tufted Upholstered Low Profile Platform Bed Review
A bed might look perfect on the spec sheet but what matters the most is the customer's experience with the product. So, what do the users of the product think about this bed? This product has received a fairly high rating of 4.6 stars out of 5 from over 750 reviews to date.
Pros:
Very easy to assemble.
Upholstery is easy to clean.
Beautiful and simple design, which won't go out of style.
Comfortable to sleep on and lean against the headboard.
Cons:
The exact color might slightly differ depending on the lighting in your room.
Some people found the headboard to be thin or stiff, but this depends on their personal preference.
Issues with delivery reported.
Most customers were satisfied with their experience with the product. However, some reported issues concerning manufacturing faults like hanging threads on the fabric. There were a few complaints about the color of the upholstery not matching the picture or shade mentioned in the description. The light gray version may have beige undertone depending on lighting. Users found it very easy to assemble, which takes at most about an hour or less. They were also satisfied with the convenience of cleaning the fabric of the upholstery.
Bottom Line – Is It Worth the Purchase?
At the time of writing this review, the bed is priced between $469.99 – $569.99 after an 18-22% discount which is a competitive price given its quality and style. The vast majority of customers have been satisfied and claimed that the bed matched their expectations, and are overall happy with the product. The Williams Tufted Upholstered Low Profile Platform Bed is definitely worth a consideration since it delivers on what it promises at a great price.
Disclosure: This post features affiliate links, which means that we may get compensated for items purchased through our site, at no additional cost to the reader.
Please note: the prices and ratings mentioned in this post were last updated on April 19, 2021. For up to date prices, please click on the link of each product.