From a big family to a dinner party, a round dining table for 10 is a great addition to your dining area. It provides plenty of space for everyone to sit and dine comfortably, plus it encourages conversation among your family and guests.
You can find a dining table made of wood to go with your interior. There is something about wooden furniture that adds a warm, welcoming vibe to your home, which is perfect for a space such as your dining area.
Disclosure: This post features affiliate links, which means that we may get compensated for items purchased through our site, at no additional cost to the reader.
If you are shopping for a round dining table for 10, consider the following tables for your home.
1. Alpena Round Dining Table for 10, by Greyleigh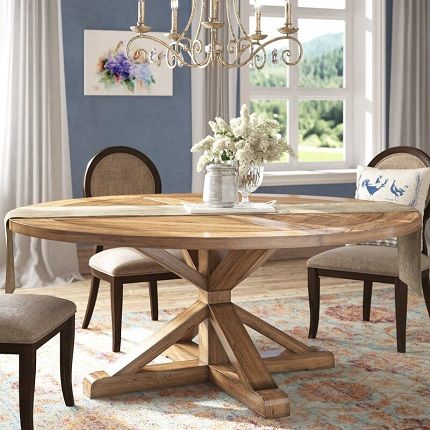 Made of MDF and rustic pine wood with a distressed finish, this dining table is a great addition to your home. It features an open X base, pedestal design and round top to create a classic but gorgeous piece. The table comes in a larger size to accommodate everyone. Whether you are creating a farmhouse or contemporary home design, this table is perfect for your dining room because you can pair it with a range of colors, textures and decor. You can buy the table in 3 different sizes, the largest is: 30″ high x 72″ long x 72″ wide. It has very high customer rating 4.8/5 from over 500 customer reviews.
Price: $999.99 (reg. $1,589.00) from Wayfair (image source and retailer)
---
2. Elle Reclaimed Wood Dining Table for 10, by South Cone Home
You can have your pick of the bunch with this reclaimed wood dining table. It comes in several sizes to fit up to 10 people comfortably. In addition, you can also choose from several shades to fit your interior, from the light-toned maple to the dark-toned walnut. It is made of solid wood with a mahogany finish and wrought iron legs to create an attractive, durable piece. This dining table adds a touch of elegance to even the most modern space. You'll be interested to know that this table is made with iron and 80 year old recycled hardwood from Northern California.
Price: $1,379.69 (reg. $1,532.99) from Overstock (image source and retailer)
---
3. Weston Solid Wood Dining Table for 10, by South Cone Home
This round dining table for 10 is made of American hardwood with a mortise and tenon joinery. It features a smooth finish and elegant legs that are perfect for adding a luxurious vibe to your space. From the 2-inch tabletop to the dark-toned wood to the hand-finished surface, you are adding a bit of character to your home with this solid wood dining table. Imagine a beautiful dining table that also doubles as a focal point in your dining room. The best part is that you can buy it in 7 color finishes: walnut, espresso, cognac, gray, cement, maple, and smoke.
Price: $1,569.99 (reg. 1979.99) from Wayfair (image source and retailer)
---
4. LINDO Round Dining Table for 10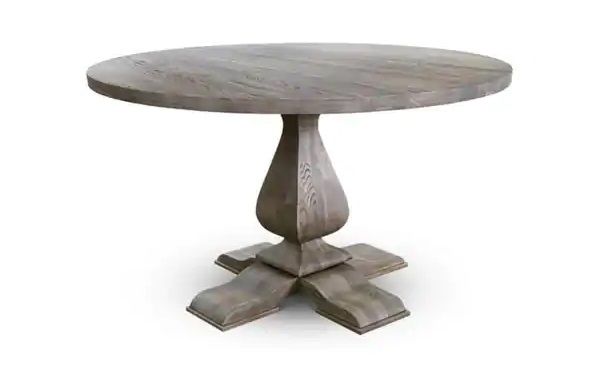 If you are looking for a piece that creates an antique-inspired atmosphere, look no further than this oak dining table. You can even select an oval-shaped double pedestal table to accommodate 10 people. It is made of aged solid oak planks with a pedestal base to create an elegant piece for your dining room. Between the grey-washed planks and natural grains, you are sure to love this beautiful piece. It is fitting of homes ranging from a rustic to farmhouse design. You have the option to choose between Pedestal Round or Double Pedestal Oval shape.
Price: $2,824.49 from Overstock (image source and retailer)
---
5. Birchley Extendable Solid Wood Dining Table for 10, by World Menagerie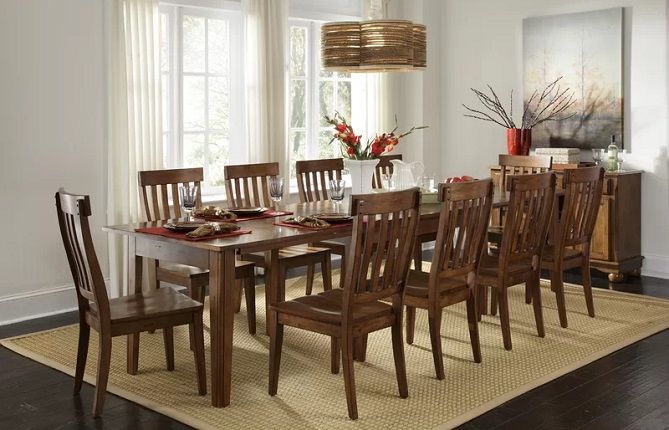 While this wood dining table is not round like other tables, it is a great option because it allows you to comfortably seat up to 10-12 people. It features three self-storing leaves to make extending the table to your preferred length a breeze. The table itself is made of solid rubberwood with an amber hue distressed finish. Whether you are placing this table in a country-inspired or modern space, it is an awesome way to encourage togetherness in your home. It's length when fully collapsed is 61″ while when fully extended is 132″. If you extend 1 leaf, the length becomes 84″, if you extend 2 leaves it becomes 108″.
Price: $639.99 (reg. $1,248.00) from Wayfair (image source and retailer)
---
6. Fenley Round Dining Table, by Winston Porter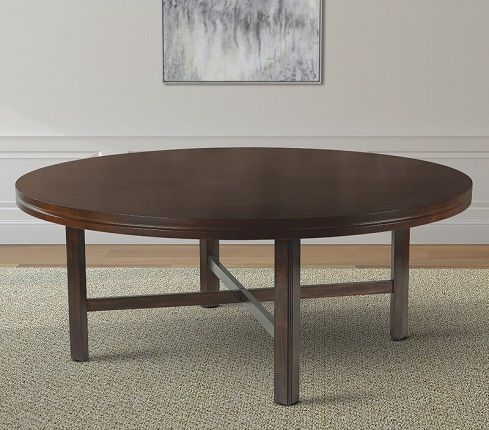 If you don't mind having a table that can set up to eight people instead of ten, then this is a great option to consider! It's crafted from solid hardwoods and oak veneers, giving any room a warm look and feel. It measures 72″ long x 72″ wide x 30″ high. You can also check out our article on 9 Piece Dining Sets, which include a table and eight chairs. Keep in mind that the suggested minimum room size should be 12×12 in order for the dining table and chairs to fit well inside.
Price: $539.99 (reg. $775.00) from Wayfair (image source and retailer)
Please note: the prices mentioned in this post were last updated on August 4, 2022. For up to date prices, please click on the link of each product.