Many homeowners are often faced with the problem that there is not enough room in their home for guests to sleep over. However, living in a small space shouldn't stop you from finding just the right furniture piece that is both functional and fits well with your interior decor. One solution, would be to get a daybed with a pop up trundle. This means that the trundle stay hidden under the daybed, and when you have guests over you can expand it and create a large sleeping space that is perfect for a couple or two people to sleep there comfortably. You might also want to check out the Leavittsburg and Lebanon Futon and Mattress which can sleep two people comfortably and comes at a fair price.
What is a daybed with a pop up trundle?
When you first start shopping for a daybed with trundle, you'll notice that most of them have the trundle unit roll out from under the daybed, and stay low to the ground. It doesn't have the option to "pop up" or be raised to the level of the daybed. This might not be a very comfortable option for some guests who are sleeping there, and who would prefer to sleep on a normal height bed. That's why you'll need to pay special attention if the trundle unit "pops up", or if it just rolls out and stays almost sitting on the floor.
In this article we've found two trundle units, which can "pop-up" (number 1 and 2 on this list), you can then find a daybed that you like and buy it along with trundle (just make sure that the dimensions of both items are compatible and that the trundle fits, under the daybed).
Disclosure: This post features affiliate links, which means that we may get compensated for items purchased through our site, at no additional cost to the reader.
Now let's have a look at some of the best daybeds with pop up trundle, which you can buy online.
1. Trundle Unit for Daybed, by Symple Stuff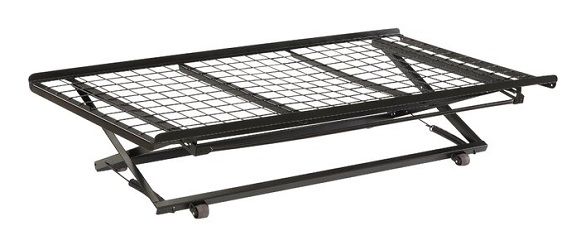 This is a pop up trundle unit, which pops up to even height of a traditional daybed or twin bed. The height of the trundle is either 16.93 inches when extended or 7.09 inches when collapsed down. It's dimensions are 70″ long x 38.5″ wide. Here the weight capacity of the trundle is 200 lbs, making it a sturdy option for adult guests. The recommended mattress height is 5″ to 6″.
Price: $299.99 (reg. $339.99) from Wayfair (image source and retailer)
---
2. Roll-out Pop-up Trundle Bed for Daybed
Our second suggestion for a pop up trundle is sold by Overstock. It also has roll out wheels and is a pop-up twin trundle bed. It's made of steel and has black finish which will fit very well with variety of decors. It measures 39 inches high x 72 inches wide x 72 inches long.
Price: $386.49 from Overstock (image source and retailer)
---
3. Holbrook Twin Platform Bed with Pop Up Trundle, Viv + Rae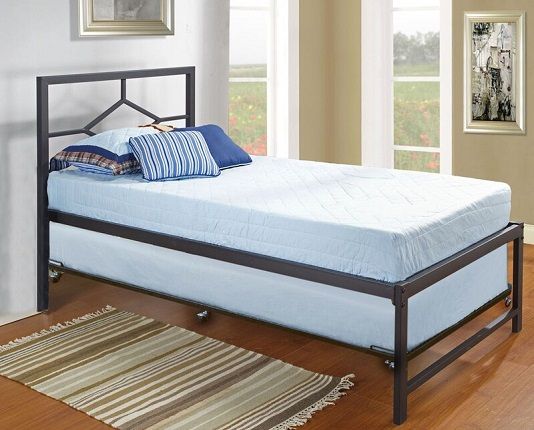 If you're deliberating between getting a twin platform bed or a daybed with pop up trundle, here is a great metal twin platform bed with pop up trundle included which you should consider. You can easily pop up the trundle and level it to the height of the platform bed. When it's not in use, simply collapse it down and roll it under the bed. Keep in mind that the trundle can accommodate a mattress that is 8″ deep.
Price: $669.99 from Wayfair (image source and retailer)
---
4. DHP Victoria Metal Daybed (Twin or Full)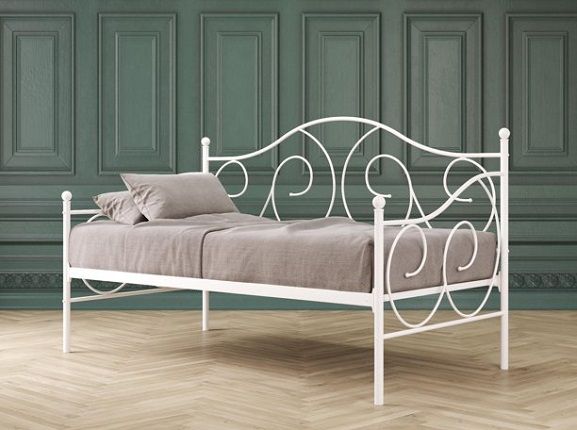 Here you have a beautiful and contemporary metal daybed that's sold without a trundle. However there is 15 inch clearance under, so you can use it to put a pop up trundle unit inside (just double check it's size). It comes at an affordable price and is perfect if you want to add more seating or sleeping space for guests in the living room or guestroom. It has round final posts, and traditional scroll work. Comes with 1 year limited warranty.
Price: $149.00 (reg. $189.00) from Walmart (image source and retailer)
---
5. Mikayla Metal Scroll Daybed, by Andover Mills
This daybed is sold without a trundle, however you double check it's dimensions and buy a pop up trundle separately and pair it up together. You'll notice that it has a scrolling design and finial detailing, creating a traditional look. It's crafted from stainless steel and the best part is that you can get it in twin or full size in case your guests need more space. The dimensions of the twin daybed are: 77.5″ long x 41″ wide.
Price: $209.99 (reg. $249.00) from Wayfair (image source and retailer)
---
6. Dolder Twin Daybed, by Three Posts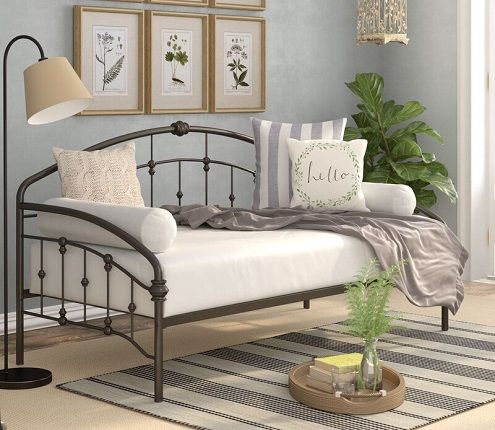 This is sturdy daybed crated from metal, that has a weight capacity of 300 lbs. It has an arching back and globe accents, which gives it a traditional look. It's available in dark bronze or antique white color. The clearance from the floor to the underside of the bed is 12 inches, so it could be used with a pop up trundle as long as it fits inside.
Price: $385.99 (reg. $549.05) from Wayfair (image source and retailer)
---
7. Maua Contemporary Ivory Fabric Tufted Daybed, by Furniture of America
If you're looking for an unpholstered daybed, for the ultimate comfort and style, you can't go wrong with this one. It's upholstered in soft linen-like fabric and has foam filled padding. This daybed comes without a trundle, however you can pair it up a pop up trundle of your choice (just double check it's size beforehand). If you decide to buy a metal pop up trundle, you might want to consider getting a bed skirt for example that can hide it. The daybed comes in creamy ivory hue and has deep button tuft accents with nailhead trim border.
Price: $617.49 from Overstock (image source and retailer)
---
8. Ishee Convertible Queen Solid Wood Daybed with Mattress, by Mercury Row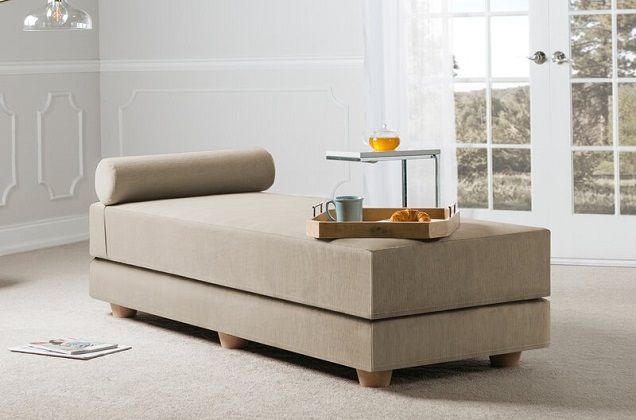 This is a very smart and interesting daybed which can be converted into a queen size sleeper. It comes with top and bottom mattresses already included which have a "medium" comfort level. When you take into consideration that the two mattresses are already included in the price, it's actually very fairly priced. You don't have to worry about buying a trundle unit and two mattresses, this daybed has everything. The daybed is made in the USA, and has a wooden bed frame. It comes with a bolster pillow included which you can use to rest your head. Another important advantage of this daybed is that it comes with removable poly-velvet cover, which you can wash in the washing machine and dry it in the dryer on low heat. Which makes it easy to maintain clean for years.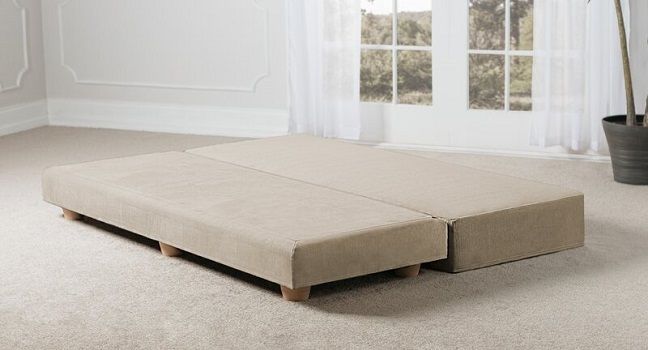 The dimensions of the daybed when opened are 9″ H x 60″ W x 80″ L, which has a queen size bed measurements. While the overall dimensions of the daybed when not expanded are 18″ H x 30″ W x 80″ L.
You're sure to find the perfect color, since it comes in: ivory, camel, butternut, indigo, coffee, pinot, and ice.
Price: $759.99 from Wayfair (image source and retailer)
Please note: the prices mentioned in this post were last updated on July 19, 2022. For up to date prices, please click on the link of each product.