Kitchen and dining room storage can be tricky. You want to find the right pieces to hold all your valuable dining items and decorations without crowding your dining space. It can feel nearly impossible to find something stylish, functional, and forgiving when it comes to the amount of space it takes up.
That's where the Priceville Dining Hutch comes in: modern and unassuming. It includes plenty of storage space for your cutlery, plates, glasses, pots, pants and other kitchen and dining room essentials. It has a combination of open and closed storage. You should strive to keep the open shelves neat and tidy, while the closed storage space (drawers and cabinets) can be used to pile up and store things that will stay hidden.
Priceville Dining Hutch, by Red Barrel Studio
The Priceville 44″ Wide Dining Hutch offers various storage options to showcase your items the way you want to. Complete with four cabinets, three shelves, three drawers, and wine rack you will always have space to store what you need.
Overview:
Made with solid and manufactured wood.
Glass paneling on some cabinets.
Nine-bottle wine rack included.
Comes with 1 year limited warranty.
The Priceville Dining Hutch comes with a countertop space and a nine-bottle wine rack for ultimate convenience and storage opportunities. It is the perfect piece to showcase your things without taking up too much space overall.
The hutch comes in four different colors: off-white, black, cottage oak, and medium cherry, to match your existing dining furniture seamlessly. While the countertop material is available in: stainless steel, natural wood, cottage oak, or cherry wood.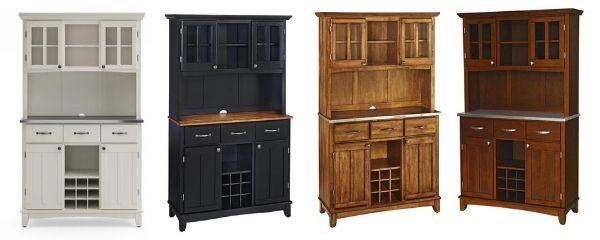 Dimensions:
The overall dimensions of the Priceville Dining Hutch is: 25" high x 44" wide x 17" deep, and looks very similar to a china cabinet. The top cabinet has an interior of: 17.5″ high x 13.5″ wide x 9″ deep, while the bottom cabinet has an interior of: 21.75″ high x 39.25 wide x 13.25″ deep. The shelves on the top and bottom cabinet are removable and adjustable. You also have the option to remove the wine shelves if you plan on not using the wine rack.
There are three drawers on metal glides, their interior measures: 3" high x 9.125" wide x 10.75" deep.
There is an opening for cords in the middle of the countertop, so you can place a coffee machine or toaster there for example. The height of countertop is 36.25″ measuring from the floor. If you still need more storage space in your kitchen, then consider getting a kitchen island or a stylish mirrored sideboard.
Overall, the Priceville hutch is the ideal addition to your dining area. You'll be amazed at how much you can keep in it while still having plenty of room to entertain and serve!
Shipping and Assembly Information:
The Priceville Dining Hutch will ship in three boxes. The dimensions of each box is: box 1 is 14.75" high x 20.25" wide x 46.25" deep. Box 2 is 10" high x 16.25" wide x 47.75" deep. Box 3 is 3.25" high x 18.75" wide x 46.5" deep. The overall product weight is 128 lbs.
As far as the assembly, many customers have said that it's fairly easy to assemble, considering the size of the hutch. However for some parts of the hutch two people are needed, so you should get a helping hand. One person said that the pictures could be made more clear on the assembly manual.
Priceville Dining Hutch Review
Overall, the Priceville hutch has high ratings of 4.5 out of 5 stars, with over 1,260 reviews to date. Many agree it's easy to assemble and use, with plenty of opportunities to store and showcase your dining room utensils and décor. Here are some of the highlights customers shared about the product:
Pros:
Easy to assemble;
Sturdy and stable for heavy-duty storage;
Made with high-quality materials for long-term use;
The adjustable shelves make storing glassware easy;
Overall great product that looks perfect in the dining room.
Cons:
May take a while to put together;
Color may not be true to photos, especially the white is off-white, with one customer saying that it's more like ecru.
Some customers also mentioned missing pieces upon delivery in their reviews. If you order this piece, be sure to check that all pieces in the instructions are included in your delivery.
Bottom Line – Is It Worth It?
Overall, the Priceville Dining Hutch is a high-quality piece that will make dining storage issues a thing of the past. Because of its overall dimensions, you will not have to sacrifice storage opportunities for overall space taken up by its design.
Right now, the Priceville Dining Hutch is priced between $747.04-$909.99 depending on the color and time of purchase. Consider this piece if you are looking for a modern, affordable solution to your dining room space issues. Family and guests alike will compliment the hutch and ask you where you got it. It's stylish, functional, and a great solution for small and large dining rooms alike.
Disclosure: This post features affiliate links, which means that we may get compensated for items purchased through our site, at no additional cost to the reader.
Please note: the prices and ratings mentioned in this post were last updated on May 30, 2022. For up to date prices, please click on the link of each product.