There is more to buying a bed than just placing an order on a retail website. You need to ensure it is comfortable enough to bring a restful night of sleep. In addition, you need to ensure it meets your needs. It is important to ensure your bed does not sacrifice comfort and durability for style and convenience. Of course, you also need to ensure you are ordering your bed from a top-notch retailer, such as Urban Outfitters. That's right, Urban Outfitters carries beds. To help you choose the right piece, here are a few of the best beds by Urban Outfitters.
1. Finley Bed
The Finley Bed is made of MDF and camphor wood with a natural finish, and it includes a platform design with a slatted base. You can order the bed frame in black or brown to fit your modern or minimalist design. Instructions and hardware are included for assembly, and it can be wiped clean for easy maintenance. This queen-sized bed is sure to add both comfort and style to your bedroom.
Price: $559.99 (reg. 759) for queen size from Urban Outfitters (image source and retailer)
---
2. Bohemian Platform Bed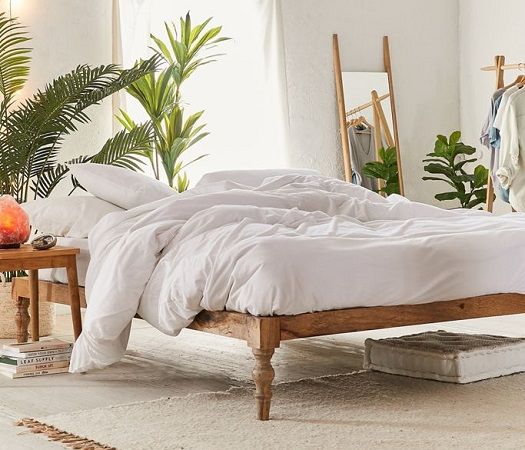 This bed is one of Urban Outfitters' longest and bestselling beds. It has a Bohemian or Boho style which is great for those who are looking for a Bohemian bed to complement their home interior. You can buy the bed in brown or white color. It's made from sustainable mango wood and has sturdy slatted base. You can buy it in twin, full, queen or king size. The bed has 4.0/5 stars from over 138 reviews. Many people complimented it that it's beautiful, good quality and sturdy. While there were a few who mentioned that they had issue with it being squeaky and not sturdy enough.
Price: $599 – $799 depending on size from Urban Outfitters (image source and retailer)
---
3. Amelia Platform Bed
The Amelia Platform Bed is a rustic-style piece made of solid wood mango, with a slatted base and reinforced center to support your mattress. It features a platform design to raise your bed, making it easier to create underbed storage. There is a clearance of 7.5 inches (10.5 inches for the queen size), which gives you room to store some items under the bed. Some assembly is required, but the instructions and hardware are included with the bed. You can order this piece as a twin, full, queen and king-sized bed to fit your space. You have a matching Amelia armoire, dresser and nightstand. If you're on a tight budget, you can also check out our review of the Avey Platform Bed by Mercury Row.
Price: $649 – $849 depending on size from Urban Outfitters (image source and retailer)
---
4. Olivia Bed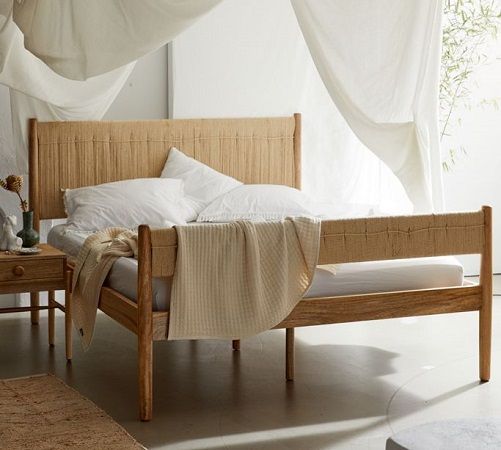 This is a beautiful rustic bed frame that's unique and custom made. It's made from mango and acacia wood, the headboard and footboard have natural woven jute stands. There are support legs underneath and comes with slatted base. Many customers who bought this bed said that it's lovely, "gorgeous and earthy". They also mentioned that it seems sturdy and well build. Some customers said that they wished a canopy is sold along with this bed, and they would like to see this bed in other sizes such as full and king, not just queen. You can also buy a matching Olivia dresser and nightstand.
Price: $799 for queen size from Urban Outfitters (image source and retailer)
---
5. Ivy Bed
The Ivy Bed is made of mango wood with a natural finish, as well as a headboard and footboard made of woven rattan panels to create a modern-Bohemian design. It comes in a light brown shade and can be ordered as a twin, queen and king-sized bed. Assembly includes the instructions and hardware, and you can wipe the frame clean as needed. From the rattan panels to the natural finish, you can never go wrong with the Ivy bed. Some customers who reviewed the bed said they wished the headboard was taller, as it measures 46.5 inches tall, so keep that in mind.
Price: $1,199 – $1,399 depending on size from Urban Outfitters (image source and retailer)
---
Delivery and Returns Information
Keep in mind that every online retailer has their own shipping and returns policy. With Urban Outfitters there is an additional $99.95 fee for most furniture items to ship by truck. This is a one-time shipping fee per order, and it will include all other items that you've bought and will ship together with the bed. The delivery time will depend on the bed size and it's availability.
Some furniture items are eligible for returns within 30 days of delivery. However, keep in mind that made-to-order, customizable furniture items cannot be returned, cancelled or exchanged. Make sure you read carefully the delivery and returns policy so there are no issues later on.
Disclosure: This post features affiliate links, which means that we may get compensated for items purchased through our site, at no additional cost to the reader.
Please note: the prices and ratings mentioned in this post were last updated on October 20, 2020. For up to date prices, please click on the link of each product.