Having a sleeper sofa is a must for many home owners, since it serves two important functions. One you can use the sofa during the day to watch TV, read a book, invite friends for a drink, and more. The second reason why you'll be using it, is to host and sleep guests there. A sleeper sofa can easily be converted into a full size bed that can be used by guests and family to sleep comfortably there. If you don't have a guest bedroom, then having a sleeper sofa in your living room is a must.
In this review we'll review one of Urban Outfitters' popular furniture items the Winslow Sleeper Sofa, so you can decide if this is the right sofa for you. Don't forget to also check out our article on the best beds from Urban Outfitters.
Is the Winslow Sleeper Sofa Comfortable?
The Winslow Sleeper Sofa has many positive reviews from customers who have said that it's comfortable and spacious. The cushions support you and create a super soft feel. They've also mentioned that it's spacious and has lots of room to fit 2 people. However, there are some customers who have experienced problems with the sofa after using it for some time, some have mentioned that the padding and cushions become flat over time. This is definitely something to consider before making up your mind. At the time of writing this review the Winslow Sleeper Sofa had 4.2/5 stars from 12 reviews, while the Winslow Armless Sleeper sofa had 3.3/5 stars from 23 reviews. Make sure you read through all the comments, so you can get an idea if this is the right furniture item for you.
Winslow Armless Sleeper Sofa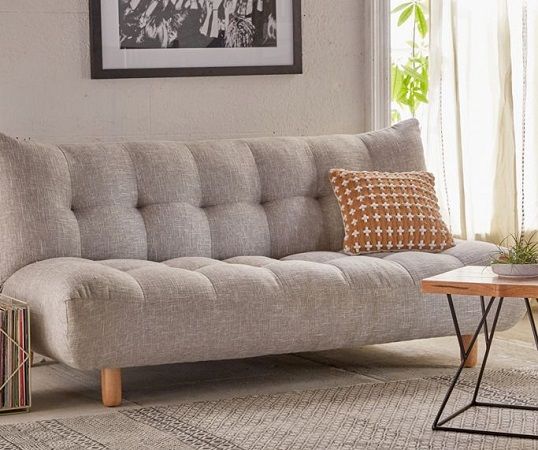 The Winslow Armless Sleeper Sofa features tufted, modern textured upholstery, as well as a wood frame and minimal cylindrical legs to create a durable piece. To turn this sofa into a bed, all you need to do is recline the back. You can fold it upright when you need to turn it back into a sofa.
It is always a good idea to check the measurements of the piece and your space before settling on a sleeper sofa. When closed, the sofa measures at 74.4″w by 40.15″h by 34.6″d. Once you open the bed, it measures at 74.5″l by 48.4″w by 18″h. As for the care instructions, spot cleaning is necessary for maintenance. The Winslow Armless Sleeper Sofa is a great product for furnishing your living room or guest bedroom or adding a bit of comfort to your home office. For that reason, this sleeper sofa is worth the money.
Price: $598 from Urban Outfitters (image source and retailer)
---
Winslow Sleeper Sofa
The Winslow Sleeper Sofa features a tufted, textured upholstery with clean lines to fit your modern space. It is made with a sturdy frame and natural wood legs to create a durable, long-lasting piece. The upholstery folds down and the arms can be removed to reveal a full size bed, which you can close when you are ready to sit on the actual sofa.
It should be noted that this sleeper sofa only comes in one size, so it is best to measure your space before deciding on this product. The sofa measures at 80.4″w by 40.15″h by 34.6″d when closed. When opened into a bed, it measures at 74.5″l by 48.4″w by 18″h. If you need to clean the sofa or bed, you can do so by spot cleaning the fabric. The Winslow Sleeper Sofa is worth the money because it can be used in your living room, guest bedroom or home office.
Price: $549.99 from Urban Outfitters (image source and retailer)
---
Is the sleeping area enough?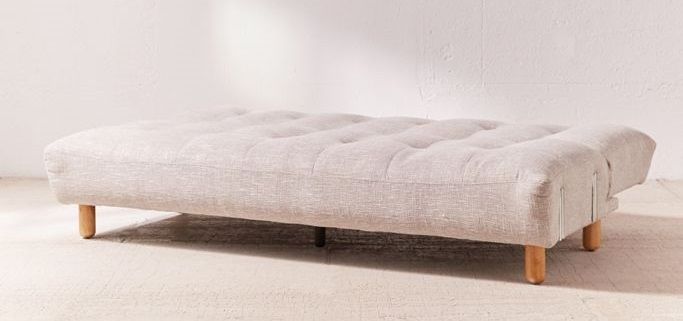 When you expand the Winslow Sofa, the bed will come out to be 74.5″ long by 48.4″ wide. This is about 7″ narrower than a full size sleeping bed, which measures: 75″ long x 54″ wide. This will be more than enough area for one person to sleep on without any problems. However if you have two guests coming over, they might find the sleeping area a little tight.
Disclosure: This post features affiliate links, which means that we may get compensated for items purchased through our site, at no additional cost to the reader.
Please note: the prices and ratings mentioned in this post were last updated on October 29, 2020. For up to date prices, please click on the link of each product.