The Jarreau Sofa Chaise Sleeper is ideal for small spaces and guest bedrooms. It also works for multipurpose rooms, such as a home office or basement lounge that doubles as a guest bedroom. You can order this sofa sleeper in grey or blue to fit your interior. When the sleeper is pulled out, it will create a sleeping area of a full size bed.
Jarreau Chaise Sofa Sleeper from Signature Design by Ashley
This chaise sleeper is made of polyester upholstery and foam cushions wrapped in thick poly fiber, and it all sits on a sturdy steel frame with feet in a faux wood finish. It features oversized backs and soft cushions to create comfortable seating, while the sleek arms create a modern, space-friendly design. With an easy-to-use pullout cushion, you can quickly convert this sofa into a full-sized bed.
Overview:
The sofa is upholstered in durable polyester.
There is pullout cushion which creates a full size sleeper.
Can seat three or four people comfortably.
The dimensions of the sofa are: 84″ wide, 51.50″ deep, 36.50″ high.
Please keep in mind that the chaise is not reversible (it will look the same way as on the picture shown above). The cushion covers can not be removed and dry cleaned or washed. You should only clean the covers with water based shampoo or foam upholstery cleaner. The height of the legs is 6 inches. Please keep in mind that there is no storage incorporated inside. Sofa has high-resiliency foam cushions wrapped in thick poly fiber for a firm seat.
Delivery and Assembly Information:
The Jarreau Sofa Chaise Sleeper will be delivered in two pieces. The ottoman portion and cushion are not attached until delivery. The assembly is very easy, you'll have two pieces which you need fit and put together. One customer mentioned that they had the delivery team assemble it and it took them 5 minutes.
The sofa will arrive in a carton with dimensions: 82.5″ wide x 34″ deep x 21″ high. If you need to move the sofa to a different room inside your home, your doorway needs to have a minimum width of 21 inches in order for it to fit through the door.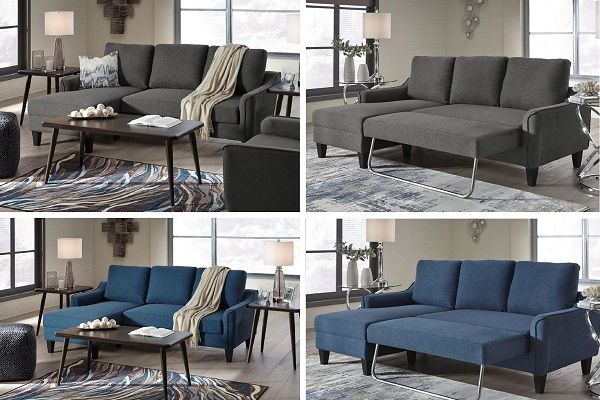 Jarreau Sofa Chaise Sleeper Reviews
The Jarreau Sofa Chaise Sleeper has received many positive reviews from satisfied customers. It has a 4.5/5 stars from over 450 customers. If you need a smaller sleeper sofa that converts into a twin size bed instead of full size, check out article on the best twin size sleeper sofas and loveseats.
Pros
According to many reviews, it is also comfortable for sitting and sleeping. Also it's quick and easy to assemble.
Customers also found the bed easy to open and close, which is important when purchasing a sleeper sofa. In addition, they love the overall design, and they feel it is a great option for smaller spaces.
Many are happy with the comfort level and have stated that they found it comfortable to sleep on. If you plan on sleeping on the sofa every night, you can consider getting a full size mattress topper, and when you don't use it you can fit it underneath.
Cons
Of course, you should always consider the negative reviews when purchasing a sofa sleeper for your home.
Several customers have stated the sofa felt hard when sitting on it. Keep in mind that the comfort level is a matter of personal preference.
Some customers were unhappy with the overall size, but it is designed for smaller spaces.
Unfortunately, a few customers have stated that it wore down too quickly. Luckily, the quick wear and tear does not seem to be a common issue.
Bottom Line – Is it worth it?
The Jarreau Sofa Chaise Sleeper has received more positive than negative reviews, and the comfort, size and quality of this piece is worth the investment. As far as the price goes, we found the Jarreau Sofa Chaise Sleeper to be sold by two major online retailers: Walmart and Ashley Furniture. The price will vary and ranges between: $599.99 – $917.49. But will depend if it's on sale or not. So it's a good idea to check both websites, and see which retailer has the best price on it currently. Overall many customers felt that it was priced fairly, compared to similar sofas sold online.
OR
CHECK PRICE ON ASHLEY FURNITURE
Disclosure: This post features affiliate links, which means that we may get compensated for items purchased through our site, at no additional cost to the reader.
Please note: the prices and ratings mentioned in this post were last updated on March 8, 2021. For up to date prices, please click on the link of each product.