Have you found yourself wanting to add an extra guest room, but don't have any extra rooms to spare – or just don't want to sacrifice one? Do you live in a small apartment, and wish your bed didn't have to take up so much space? You may be in the market for a Murphy bed.
A murphy bed is simply a bed that folds up into a small compartment up against the wall, reducing the amount of space the bed takes up within the room. They're easy to pull down and transform into a sleeping arrangement at a moment's notice, while also freeing up your space to be used for other things when the bed's not needed.
Colquitt Murphy Bed Features:
The Colquitt Murphy Bed by Zipcode Design fits the purposes of anyone who wants to include an extra sleeping space into their living quarters in a way that is simple and seamless. Unless your guests are familiar with this Murphy bed, they likely won't even realize there's a bed there!
It is available in four colors: white, antigua, bark gray, and a bark gray and white mix. These neutral colors are designed to match any existing color scheme, to ensure it doesn't take away from your personal style.
It also comes in two sizes: full and queen. There's no need to sacrifice one of your rooms in order to create an entirely separate guest room when you could simply have one room function as both!
The Colquitt Murphy Bed is currently listed at $1,267.49, which is much cheaper than renovating an entire room and sacrificing the space you already have.
Colquitt Murphy Bed Dimensions:
Buying a large furniture piece, it's always important to check it's dimensions and measure the space you have in your room, so that you're sure it will fit properly. The Colquitt Murphy Bed is available in two sizes: full and queen. The full size measures: 83.58″ high x 58.66″ wide x 87.3″ long, while the queen size measures: 89.10″ high x 64.5″ wide x 92.1″ long. Once you open the bed your room needs to have a clearance of 87.3″ (full) or 92.3″ (queen) from the wall where the murphy bed touches. Below you can see the full size Colquitt Murphy Bed in white color.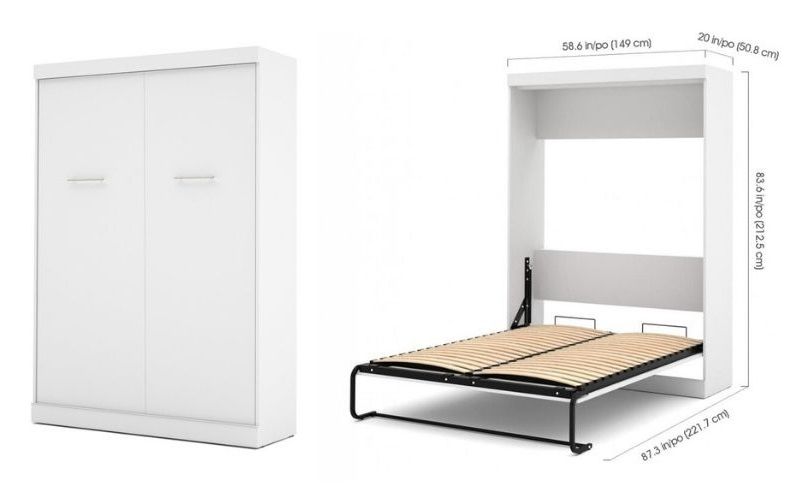 Tip: Keep in mind that this product doesn't come with a mattress, instead you can check out our guide on the best murphy and cabinet beds with mattress included.
Colquitt Murphy Bed Reviews:
The Colquitt Murphy Bed is one of the most popular products sold on Wayfair and has a high 4.4 out of 5 stars from over 536 customer reviews. Many of them are very happy with the quality and functionality of their new bed. From the photos taken by customers, you can get an idea of how the murphy bed will look once it's assembled and set up at home.
Pros
Customers describe the Colquitt Murphy Bed as being very comfortable, a great size for its function, and extremely easy to use. The bed itself is easy to pull down and reset, and it looks great in any context. It's sturdy, and stands up to quite a bit of weight. The installation of this bed has allowed consumers to keep their office space or nursery, while also providing an extra sleeping space for friends and relatives who may be coming into town.
Cons
Like any product, this bed is not without its downsides. The most common complaint from customers is that it is somewhat difficult to assemble and contains confusing instructions. Many people required the help of YouTube videos, friends, and a considerable amount of extra time in order to put together this bed. However, once assembled, they claim that it was worth the trouble and now functions as a useful and attractive extra sleeping space.
Conclusion:
The Colquitt Murphy Bed by Wayfair is an ideal solution for your space-saving bedroom dilemma while also still adding a sense of style to your place. Its neutral color options will allow it to blend seamlessly into any existing color scheme. Installing this bed into your home will immediately turn any room into an extra guest room. Although many customers find the bed somewhat difficult to assemble, they always state that the struggle was worth it for the space saved, ease of use, and chic attractiveness within their home. Overall, this bed is a recommended purchase.
Disclosure: This post features affiliate links, which means that we may get compensated for items purchased through our site, at no additional cost to the reader.
Please note: the prices and ratings mentioned in this post were last updated on January 29, 2021. For up to date prices, please click on the link of each product.