There are so many benefits to owning a cabinet bed. Not only are they versatile and accommodating in many unique types of living spaces, but they blend in seamlessly with the rest of the room while being unused. There are so many stylish options to choose from, while some even provide drawer space and other interesting features.
How to Choose a Cabinet Bed?
We are going to discuss some factors to consider when choosing the right cabinet bed for you. Features such as: Design, Building Materials, Storage, Weight Capacity, Mattress Qualities, and Assembly all should be taken into consideration when shopping for a cabinet bed.
Overall Design – Depending on the layout of the room your cabinet bed will be placed and how often the bed will be used, the design of the cabinet bed may have an impact on its usability. Make sure you choose accordingly.
Finish Options – For woods, different paint or stain colors may be available, while for metals, different metal types and sheens might be included.
Building Materials – Examples of common building materials used for cabinet beds include MDF, particleboard, solid hardwood, plywood, metal, etc. For a sturdier, longer-lasting bed, make sure to choose any sort of solid wood or metal.
Storage – Typically cabinet storage that you can use to hold bedding, pillows, and other bedding accessories is included in the design.
Weight Capacity – Make sure to check with the specifications or get in touch with the manufacturer if necessary, to get this information. This will have a huge impact on the durability, comfort, and life of the bed.
Assembly Requirements – Typically assembly materials are included along with a kit and instructions for the buyer to put together. However, assembly may vary from product to product, so make sure you check on this prior to purchasing.
Extras – Common extras include USB/Power outlets for your convenience. Some beds may have space to hold a television, hidden pockets of storage for small accessories, or other unique features. Depending on your tastes, some extras may be worth it, while other extras you can do without.
Disclosure: This post features affiliate links, which means that we may get compensated for items purchased through our site, at no additional cost to the reader.
1. Violetta Queen Murphy Bed with Desk and Mattress, by Red Barrel Studio
This is a very versatile furniture piece, because it includes a cabinet bed with a desk. It's a great option for a home office or a guest room where you would like do to some work or study during the day. There is an easy deploy mechanism, which allows you to set up the bed in under 60 seconds. There is a queen size memory foam mattress included, which is 3.5 inches thick. The desk measures 29.50″ high x 66.56″ wide x 31.50″ deep. Keep in mind that you'll need to clear all items from the desk top, before you convert it into a queen size bed. You can buy this murphy bed with desk in white, walnut or anthracite finish.
Rating: 4.3/5 from 26 reviews
Price: $1,399.99 from Wayfair (image source and retailer)
---
2. Audet Queen Storage Murphy Bed with Mattress, by Canora Grey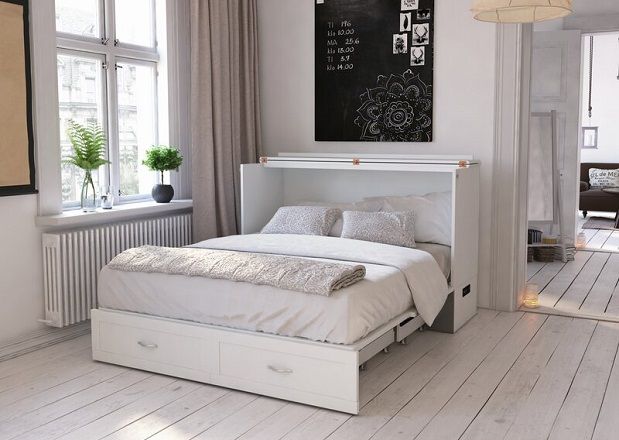 This is another sturdy cabinet bed made from rubberwood. You can purchase it in white, grey or walnut color to match your room interior. The Audet Storage Murphy Bed features slim bar pulls and panel accents on the front, creating a modern furniture piece. It comes with a mattress which is 6 inches thick and has memory foam and next generation gel-infused memory foam which is cooling and relieves pressure. Many customers have commented that the mattress is very comfortable to sleep on. It takes only 2 minutes to set up for guests and you'll all set. A cool feature of this cabinet bed is that it has charging port on the right side of the bed, which is perfect for charging your phone or other electronics. Also there is a build-in storage drawer.
Rating: 4.6/5 stars from 486 reviews
Price: $1,439.99 from Wayfair (image source and retailer)
---
3. Greeson Queen Storage Murphy Cabinet Bed with Mattress, by Red Barrel Studio
This cabinet bed looks beautiful when closed and is available in espresso, gray or white. It comes with a queen size mattress, which is 6″ thick and has pull handles so you can easily open and close it. The mattress has high-resilient support foam topped with a cool soft gel-infused memory foam. There is one storage drawer on the bottom, so you can use it to put some of your bedding inside.
Rating: 4.4/5 stars from 94 reviews
Price: $1,499.99 from Wayfair (image source and retailer)
---
4. Atlantic Nantucket Murphy Bed Chest with Charging Station
One of the extra features of this murphy chest bed is that it comes with built-in charging station (2 built-in 5V, 2.1 amp USB) so you can power your devices at night. There are also two storage drawers so you keep all of your bedding and blankets closely stowed away. It comes with a 6 inch mattress, which is a CoolSoft folding premium memory foam mattress. The best part is that you can order it in twin or queen size, so you can accommodate one or two people there comfortably.
Rating: 4.4/5 stars from 131 reviews
Price: $1,467.99 from Overstock (image source and retailer)
---
5. Graham Queen Storage Murphy Bed with Mattress, by Beachcrest Home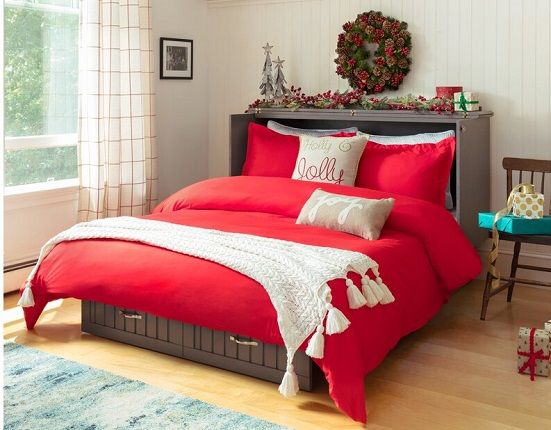 The Beachcrest Home Graham Queen Storage Murphy Bed with Mattress includes carved wood paneling and is available in three different finish colors: Espresso, Atlantic Gray, and White. There are two doors, which open to reveal the mattress and two drawers at the bottom of the bed, made perfect for storage and makes a great place to put your bedding while not in use (overall a great murphy bed with storage). It is advised that bedding, sheets, and pillows be added on just before use and stripped prior to re-folding the bed back into the console. Not only is this cabinet bed constructed with high-quality solid hardwood and rubberwood, but it includes a queen-size memory foam mattress known to provide the ultimate comfort. This is one of Wayfair's most popular cabinet beds!
Rating: 4.4/5 stars from 832 reviews
Price: $1,599.99 from Wayfair (image source and retailer)
---
6. Giannini Murphy Bed, by Loon Peak
The Gianni Murphy Bed is a bi-fold (not tri-fold) cabinet bed, which allows you to sit up against the wall comfortably when using the bed. This way you can read a book or watch TV, while sitting up. The bed frame is made from acacia solids and veneers on plywood core, however many customers have mentioned that it's very solid and sturdy. Keep in mind that there are not storage drawers included here. It's available in wide range of colors: white, caramel, chocolate, dark brown, and gray. It comes with a gel memory foam mattress included, which has cooling properties and is comfortable to sleep on.
Rating: 4.6/5 stars from 534 reviews
Price: $1,669.99 from Wayfair (image source and retailer)
---
7. Barham Cube Queen Murphy Bed with Mattress, by Canora Grey
This cabinet bed has a traditional look, and is made from solid rubberwood creating a sturdy piece. It's weight capacity is 550lbs, so you'll be able to accommodate guests without any problems. There are four color options to choose from, including: cherry, chocolate, gray, and white. When expanded the bed measures: 80.25″ long by 64.12″ wide. Here you don't have a storage drawer, but still you'll be able to save so much space in your room, so there shouldn't be a problem. It has the highest price on the list, but it also has one of the highest ratings here too.
Rating: 4.8/5 stars from 54 reviews
Price: $1,999.99 from Wayfair (image source and retailer)
---
8. Essie Queen Storage Murphy Bed with Mattress, by Pyper Marketing LLC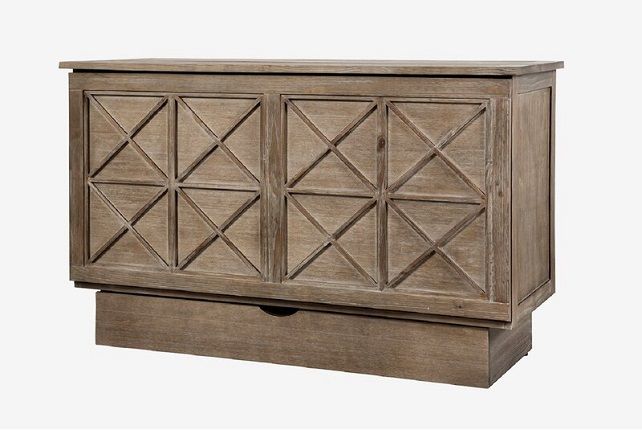 If you're looking for a more traditional Farmhouse cabin bed, that will stand out in your room this is a lovely option. The Essie Murphy Bed has beautiful X panels on the front. It's made of wood and has a weight capacity of 500 pounds. It's very easy to assembly, with an estimated assembly time being only 10 minutes. The mattress that comes with it, is a 6″ memory foam mattress comprised of 2″ softer foam on the top and 4″ dense foam on the bottom.
Rating: 4.7/5 stars from 98 reviews
Price: $2,799.99 from Wayfair (image source and retailer)
Murphy Cabinet Bed Mattress Tips:
One of the things you already noticed, is that all of the cabinet beds on this list come with a mattress already included. Most mattresses made for cabinet beds come in either a bi-fold or tri-fold model. Queen-sized mattresses are usually standard in size for cabinet beds. A foam mattress also allows for added support and comfort. Usually the mattress is 6 inches thick and in some cases can have a layer of cooling gel on top, which makes it sleep cooler during the summer hot months. You may want to read some customer reviews, to see what other people thought about the quality of the mattress, and if they found it comfortable.
Please note: the prices and ratings mentioned in this post were last updated on February 24, 2021. For up to date prices, please click on the link of each product.