Whoever said bunk beds can't be stylish? The AlmedaCheatham Full Over Full Bunk Bed begs to differ – this bed is a great looking and functional choice for your bunk bed needs. The modern design fits any bedroom perfectly, providing more room for activities and furniture throughout. It's a great and versatile choice for your bedroom needs!
AlmedaCheatham Full Over Full Bunk Bed by Harriet Bee
The AlmedaCheatham bed offers plenty of features that differentiate it from other bunk beds. The two beds are detachable, able to serve as standalone beds when needed. Beyond this, the structure also offers a charging port through one of its posts, making for an easy charging station for any USB device. Guardrails and a built-in ladder are also included, providing a safe bed you can be confident in overnight.
Overview:
Full over full bed size with safety guardrails and built-in ladder.
It's made of solid wood and has weight capacity of 250 lbs. (for the top and bottom bunk).
This bunk bed can be converted into two separate beds.
The ladder can be assembled on the right side only.
This bunk bed matches your existing bedroom furniture and layout seamlessly, with a simple yet elegant design. The AlmedaCheatham bed comes in four different colors: espresso, gray, white, and black – plenty of choices to match your room perfectly.

Dimensions:
Make sure you check the dimensions of this bunk bed, including the width, length and height. The height is particularly important because you need to make sure that your ceiling is high enough and that the child who will be sleeping on the top bunk has enough head room.
Overall dimensions of 63.13" Height, 59" Width, and 79.25" Length
31.3" distance between bottom top and bottom bunk beds
The height of the guardrail is 13.78 inches.
One very useful feature of the AlmedaCheatham bunk bed is that it can be detached into two separate beds (see below). The guardrails are detachable, so you can remove them and you'll have two identical beds.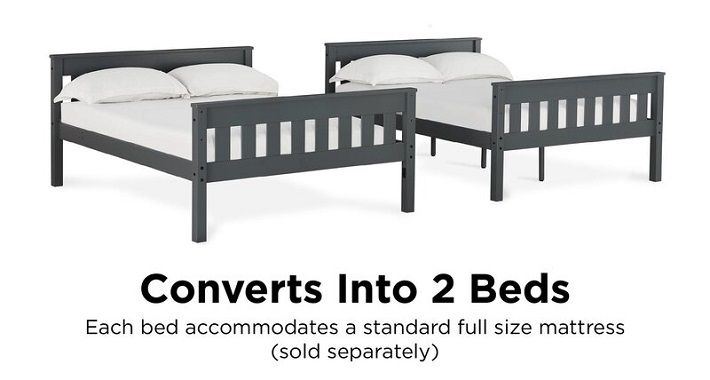 There is a weight capacity of 250 lbs. for each the top and bottom bunks. Keep in mind that the weight of the mattress should also be included when calculating the weight capacity. So you'll need to add the weight of the person who will sleep there plus the weight of the mattress.
What Mattress Should You Use with the AlmedaCheatham Bunk Bed?
The Almedacheatham Full Over Full Solid Wood Standard Bunk Bed can accommodate two full size mattresses, which measure: 54″ wide x 75″ long. The recommended mattress thickness should not exceed 6″. Keep in mind that you can use a memory foam mattress on the top bunk only, since the slats are placed closer together. On the bottom bunk you should use an open coil mattress, since the slats are placed wider apart and will not provide a proper support if you place a memory foam mattress on the bottom. Tip: if you're looking for a twin over queen size bunk bed click here.
Additional Information:
Many parents are probably wondering if they can place a trundle or drawers under the bottom bunk, however there are two support legs in the middle that will get in the way. They are built there to offer additional structural support and shouldn't be removed. There is an underbed clearance of 12.4″, which means that you can still put some storage boxes under the bed and use the space for storage. But you won't be able to add drawers or a trundle because of the support legs.
AlmedaCheatham Full Over Full Bunk Bed Reviews
What are customers saying about the AlmedaCheatham Full Over Full Bunk Bed? Overall, the bed has a rating of 4.5 out of 5 stars, with 1,381 reviews to date. Customers are pleased with the bed's functions and design, and sing its praises:
Pros:
Beautiful design with plenty of space for comfortable sleep;
Sturdy and well-built to instill confidence on both the top and bottom bunk;
USB port convenient for charging overnight;
Overall great choice for children's' and guest bedrooms.
Cons:
Relatively time-consuming to assemble;
Wood sometimes chips in small areas.
Additionally, some customers expressed a couple of missing screws upon delivery of the bed. Should you decide to order the bunk bed, ensure all your pieces have arrived to ensure safe construction. According to the wide majority of customers, the bed is comfortable and spacious, providing plenty of room to sleep well while saving space in your overall bedroom layout.
Bottom Line – Is It Worth the Purchase?
The AlmedaCheatham Full Over Full Bunk Bed is an ideal choice for your bunk bed purchase. It's a comfortable, well-structured bed that gives plenty of room for a good night's sleep, while still giving you the ability to utilize the rest of the bedroom's space. You can feel confident in the safety and design of the AlemdaCheatham bed.
At the time of writing this review, the bed is priced at $689.99-$869.99, depending on the time of purchase. It's a great, cost-effective choice for your bunk bed needs. It redefines what typically comes to mind when you think of bunk beds, adding a modern twist that allows for ample space and optimal bedroom layout!
Disclosure: This post features affiliate links, which means that we may get compensated for items purchased through our site, at no additional cost to the reader.
Please note: the prices and ratings mentioned in this post were last updated on April 4, 2022. For up to date prices, please click on the link of each product.