Renovating your room might be the most fun project you can get your hands on. Choosing the best type of bed plays a huge role in setting the tone and environment of the room. Bunk beds are becoming increasingly popular now. They have been a huge hit with kids and they're slowly making their way into the rooms of teens and adults as well.
Why Buy a Twin Over Queen Bunk Bed?
There are many practical reasons why people would choose a bunk bed over any regular bed. Not only is it different, but it also accommodates a lot of people, it takes up little space and it makes sharing a room super fun. There are many different types of bunk beds, but the best part of having a twin over queen bunk bed is that the size of it is big enough to accommodate a whole family!
Size of Twin Over Queen Bunk Bed:
On the top bunk you'll have an Extra Long Twin (XL Twin) mattress size which measures 38″ x 80″ (while a regular twin measures 38″ x 75″).
On the bottom bunk there is a queen mattress size which measures 60″ x 80″
The large size is comfortable and it is practical at the same time. It has space for everyone in the family and it's quite fun and unique in its own way. There are so many different options people can choose from when it comes to bunk beds, but a twin over queen bunk bed can be the perfect choice for your family. Because the top and bottom bunks are of different sizes, it can host kids and adults at the same time very comfortably. You can also check out triple bunk beds or 3 tier bunk beds, which can accommodate three people.
There isn't a huge variety of Twin over Queen Bunk Beds, but we've picked our 6 favorite ones you can find online.
Disclosure: This post features affiliate links, which means that we may get compensated for items purchased through our site, at no additional cost to the reader.
1. ACME Limbra Twin XL over Queen Bunk Bed in Sandy Black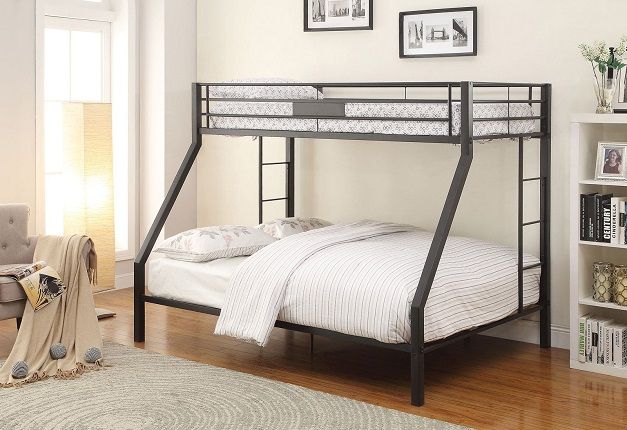 If you're on a tighter budget, you can also opt for getting a metal bunk bed. This one has a sturdy metal construction and comes in black sand finish. There are two built-in ladders on the each side and full length guardrails.
Price: $292.99 from Walmart (image source and retailer)
---
2. ACME Furniture Jason Espresso Twin/Queen Bunk Bed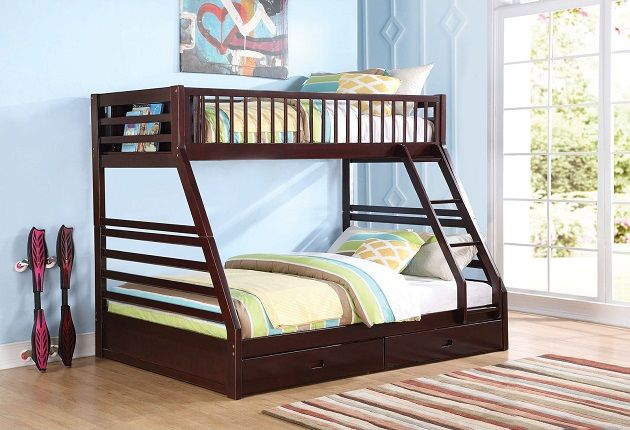 This is another durable and space saving solution, which comes with two drawers. The drawers are perfect, since you can use them for store items and keep the room tidy. Comes in rich espresso finish, and has full-length guard rails on the top bunk. It comes with 60 day warranty.
Price: $703.98 from Walmart (image source and retailer)
---
3. Furniture of America Cude Mission Twin XL over Queen Kid Bunk Bed
This is an affordable and functional bed, which comes in dark walnut or oak color. It's made of solid wood and veneers, and has 200lbs capacity for the bottom bed and 150lbs for the top bed. The upper bunk is fenced with guardrails all around for a more secure sleeping environment. It fits a TwinXL over a Queen size mattress. It comes with 90 days limited warranty, but you can buy an additional warranty from Overstock that will cover this product for 5 years.
Price: $729.16 from Overstock (image source and retailer)
---
4. Twin Over Queen Cranleigh Bunk Bed, by Harriet Bee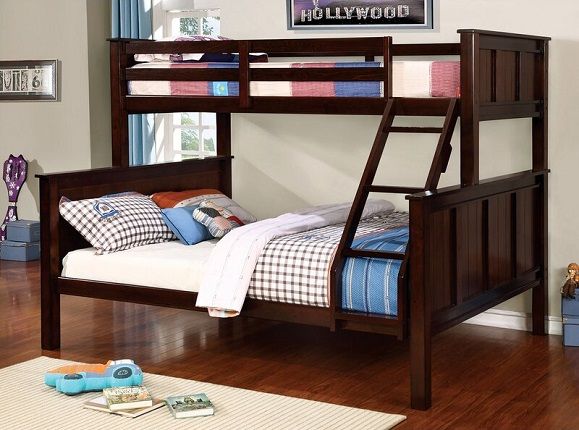 Another beautiful bed in brown cherry color. It will look perfect in any girl's or boy's bedroom. Here the weight capacity is 220 lbs. for the bottom bed and 180 lbs. for the top bed. It has angled ladder, and is made of solid wood and veneers. The overall dimension of this twin over queen bunk bed is: 87″ long x 66.5″ wide x 65.87″ high.
Price: $1,059.99 from Wayfair (image source and retailer)
---
5. Twin XL over Queen Size Charli Bed with Angle Ladder, by Harriet Bee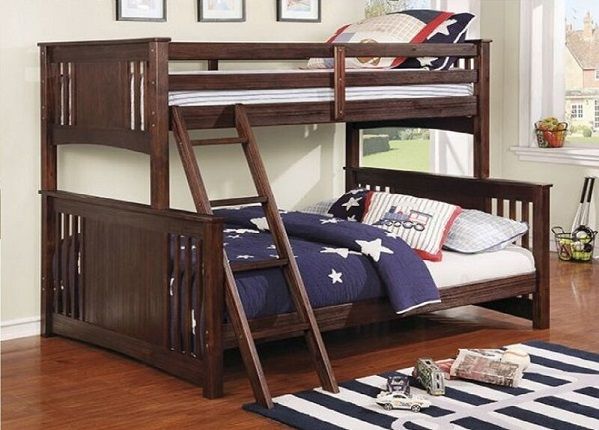 You can buy this bed in four different colors: oak, dark walnut, white or espresso. The wood has a more distressed look, giving it a more traditional look. The weight capacity is 220 lbs. for the bottom bed and 180 lbs. for the top bed.
Price: $949.99 – $1,022.49 from Wayfair (image source and retailer)
---
6. Berdy Twin Over Queen Bunk Bed with Trundle, by Harriet Bee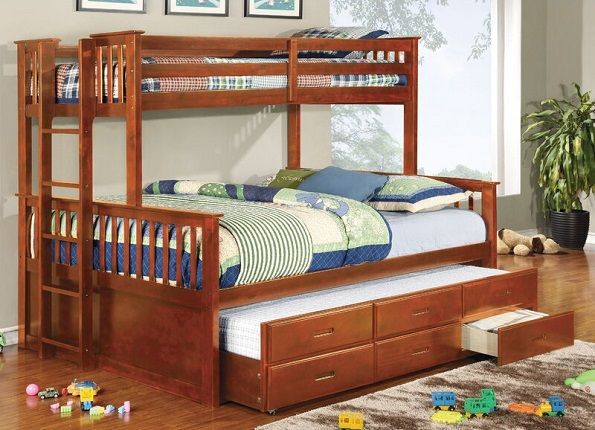 Many parents and kids will love this bed, because there is a trundle bed underneath, allowing you to accommodate even more guests. Also there are three storage drawers, so you can put away clothes, blankets, bedding, toys, etc. Here the bottom bed has a very big weight capacity 500 lbs., while the top bed has 180 lbs. capacity. You can buy it in oak (shown above) or espresso color.
Price: $1,164.99 from Wayfair (image source and retailer)
---
How to Choose a TwinXL over Queen Bunk Bed?
There are several things you should consider when picking this kind of bunk bed.
Metal vs. Wooden
You'll be able to find either metal or wooden beds. Metal beds are still sturdy, but the biggest advantage is that they are affordable. There is a wide choice of wooden beds, that have the frame made of solid wood (either pine or rubber wood), while the headboard and foodboard can be made of manufactured wood or veneers.
Twin Over Queen Bunk Bed With Trundle Bed
Parents and kids love the idea that you can have a trundle bed available when you have guests or family visiting and sleeping over. All you need to do is pull out the trundle bed, and you have an extra bed ready to accommodate another person. You don't have to worry about storing and putting away the bed each time, just pull it out, and you're ready to host!
Twin Over Queen Bunk Bed With Stairs vs. Ladder
Generally this type of bed has a slanted ladder on the right or left side of the bed, or in some cases in the headboard or foodboard. Make sure you check on which side the ladder or stairs is located, and if this is fixed. The advantage of having stairs, is that the steps are wider and easier to climb up and down. Plus sometimes there are storage drawers built-in inside each stair.
Weight Capacity
This is an important point you should keep in mind before you buy the bed. Make sure you check what's the maximum weight capacity of the top bed and bottom bed. For example, one model can have 180 lbs for the top bed and 200 lbs for the bottom. The weight of the person who will be sleeping there plus the weight of the mattress should not exceed the maximum weight capacity. If you plan to have adults sleep on the bed, double check that they bed can hold their weight and that it's safe to use.
Please note: the prices mentioned in this post were last updated on April 28, 2021. For up to date prices, please click on the link of each product.