We all know what a Murphy bed is, but maybe just aren't familiar with the name. Also known as a "Wall Bed", though essentially, it's a bed that can be folded and stored in a way that it blends in seamlessly within the room it's in.
Murphy Beds use a safe and simple dual piston system, allowing you to easily open and close the bed when needed. All you have to do is to pull back the handle, which is located on the door panel. As you're pulling down the handle, the bed go from a vertical into a horizontal position. There is a leg which will swivel over, and will touch the ground in order to support the frame and mattress of the bed.
Below you can see the Beecroft Murphy Bed by Latitude Run. It's available in full or queen size. It has a weight capacity of 1000 lbs. so it can support two people plus the mattress, as long as they don't exceed the weight limit. Here you have an option to buy the wall bed with a matching storage unit on one side, which will give you additional storage space.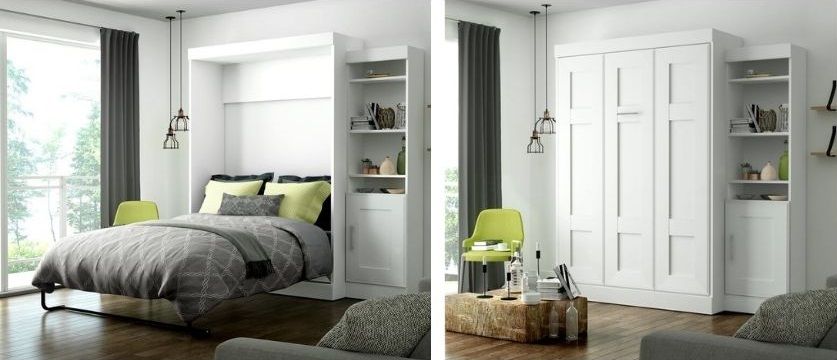 Advantages of Murphy Beds:
There are so many advantages to owning a Murphy bed. One example would be if you like to have overnight guests stay over, but you still would like to use your space for other purposes most of the time. Murphy Beds are perfect for converting home offices, living rooms, entertainment areas, children's playrooms, or any other multi-purpose space in the home into a makeshift bedroom when needed.
If you live in a small apartment or tiny home, a Murphy bed may be the perfect solution for you, as it is great for saving and utilizing the space you have in the most efficient ways. Many designs provide shelving and drawer options, allowing for storage for things such as bedding and sheets, as well as décor items to add charm to any type of room. The Murphy bed serves many functional purposes, while also bringing warmth and style to any room.
1. Different Types of Murphy Beds:
Murphy Beds come in different styles so you'll be able to choose one that best suits your space and needs. Examples include but are not limited to the classic wall bed, bookcase bed, work desk bed, sofa-on-a-wall bed, cabinet bed, and many more. If you have a lower ceiling in the room where you're planning on placing the bed, then you can also consider getting a horizontal murphy bed, which opens up horizontally and not vertically. Or you can buy a cabinet bed (see below).
2. What Mattress Should You Use?
Did you know that Murphy beds can now accommodate for many different sized mattresses? From twin, full queen, and king size mattresses to even bunk bed options. Here are a few things you should consider when it comes down to selecting the right mattress for your murphy bed:
You'll be able to find murphy beds that fit: twin, full, or queen size mattress (king size are also available but are harder to find).
Check if the murphy bed comes with a mattress or if you need to purchase one separately.
Check what is the recommended mattress thickness. Wall beds usually can support up to 10″ or 12″ thick mattresses, if you use one that's thicker you won't be able to close the bed properly.
Murphy beds can accommodate memory foam, spring or hybrid mattresses. Most have wooden sprung slats, which will support your mattress, without the need for an additional foundation or a box spring.
Double check the weight capacity or limit of the murphy bed. If it's 400 lbs. for example, this means that the weight of the person(s) sleeping there plus the weight of the mattress, should not exceed the weight limit.
While there have been safety concerns in the past about Murphy beds folding up while people are sleeping in them, you can rest assured because the technology now available is far more advanced than ever. This means that customer safety and comfort is a top priority during the development of these beds, and the building materials used are of high-quality.
3. How much does a Murphy Bed cost?
Murphy beds are considered expensive furniture pieces. Their price will depend on the size you're buying, the manufacturer, as well as the materials used. Their price can range between $1,100 – $5,000 for a full size, and between $1,200 – $6,000 for a queen size. Buying wall bed is a big investment, that's why it's best to shop around before you make your purchase. If the item is custom made, it's generally more expensive plus you'll most likely have to wait a certain period before it arrives.
4. Where can you buy a Murphy Bed?
Since Murphy Beds have become so popular in the last decade, there are several places where you can buy one. You can either buy a custom made one by ordering it online for a specialized home furniture company or buy it from a major online retailer such as Wayfair, Amazon, Walmart and others.
If you decide to buy a custom made one, you'll be given the option to customize color of the panels, by choosing from high-gloss, matte, or simple solid colors. You can also customize the pull handles or knobs from different styles and colors. Lastly, you should pick the size of the bed and if you want any storage units included.
Once your order placed, you can see how long it will take for the product to arrive and how much are the shipping costs. Also, check if there are any customer reviews of the product you're planning to buying so you can see what other people have thought about the product. Additionally, check to see how easy the assembly is before you order it. You want to make sure that the assembly will be easy and you'll be able to handle it with the help of another person.
Many people are wondering does IKEA sells murphy beds? But the answer is no (at least for now). If you're a DIY enthusiast or you live with one at home, you'll be able to find different DIY murphy bed projects online which are built using IKEA parts. Here is a cool article on how to build a full size murphy bed using IKEA parts.
5. Murphy Bed vs. Cabinet Bed:
There is another very popular type of hide away bed called "cabinet bed". Basically it looks like a storage cabinet, but you can pull the cabinet doors and unfold the bed frame and mattress. It can easily be converted into a twin or queen size bed, with a comfortable mattress sitting on top. Below you can see the Emil Storage Cabinet Murphy Bed with Mattress.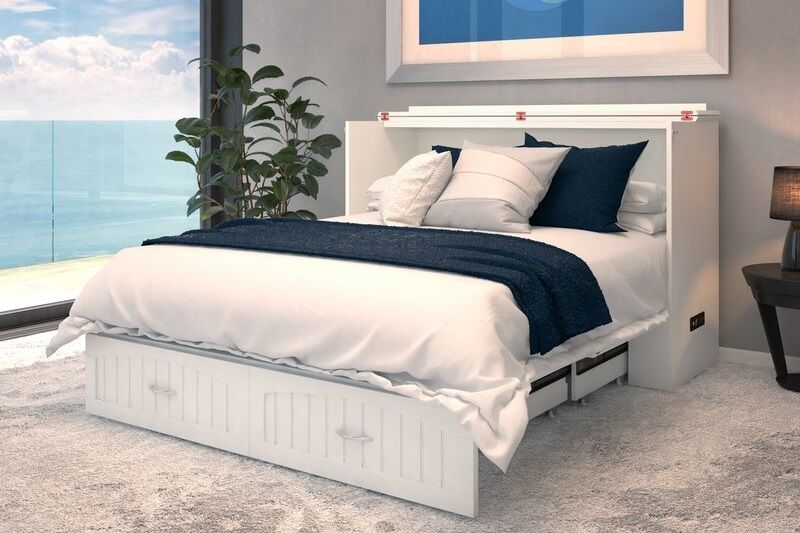 There are several advantages of buying a cabinet bed vs. a murphy bed:
Cabinet beds are not as tall, and you won't have trouble fitting them into a room that has a lower ceiling. Usually the measure just 40-45″ high.
Most of the time they come with a mattress already included, so you don't have to worry about purchasing one separately.
They're generally less expensive, since they come with mattress already included in the price.
The assembly is usually easier, and you won't have to mount them to the wall for safety.
Most cabinet beds come with a built-in storage drawer, which you can use bedding and other items.
Check out our article on the best cabinet beds with mattress included, starting from $1,399 including the mattress.
History of the Murphy Beds:
Murphy beds have been around for over one hundred years and was initially advertised as a Murphy "In-A-Dor" Bed, as William Lawrence Murphy, the inventor, would initially store a bed in his closet for his girlfriend in his tiny apartment. Murphy beds have advanced significantly over the past few decades and no longer require a stowaway closet, but can include drawers, shelves, various mattress sizes, and are disguised as alternative pieces of furniture when not in use.
A fun history fact you probably didn't know was that Murphy beds peaked in 1925 as the Murphy bed headquarters moved to New York City. This led the Murphy bed to become a status symbol as people who lived in hotels would convert their rooms into parlors. This practice would later take place in apartments and houses across the country. Today, they are still widely associated with the convenience they bring to those who indulge in the city-life. However, these days Murphy beds are a viable option for any environment or setting you're in.