When searching for the right daybed for your home, you have a lot of different things to consider: what you want your daybed to look like, how it will fit into your room's overall design, where you want to place it, and more. Another critical consideration is the size of the daybed: specifically choosing between Twin and Twin XL size.
When you think of daybeds, you often think of a small place to rest, for taking naps in the middle of the day or relaxing between working from home. They are also a preferred furniture piece for a kid's bedroom or a guest room, since they can be used with a comfortable mattress, so your kids or guests can get a good night sleep.
Twin vs. Twin XL Daybed:
Though many daybeds come in Twin-size, it's often better to consider a Twin XL. Below you can see their dimensions, so you can get an idea which is better for your home:
Twin daybed fits a mattress which is 38″ wide and 75″ long.
Twin XL daybed fits a mattress which is 38″ wide and 80″ long.
As you can see, with the Twin XL size you have 5″ more leg room. Even a full size daybed won't be able to provide you with this amount of space, since it's also 75″ long. The next size that you can consider is getting a queen size daybed which is 60″ wide and 80″ long, however it will take way too much floor space and not a lot of rooms can fit one inside.
A Twin XL is the perfect size: whether you are short or tall, a Twin XL has you covered, without having to take up the amount of room a Queen or King-sized bed would take up. Knowing how great a Twin XL daybed can be, here are six of the Best Twin XL daybeds available:
1. XL Twin Daybed with Pop up Trundle, by East Urban Home
This is an affordable and practical steel daybed, that comes with a pop up trundle. While most of the daybeds on this list come with a trundle unit that rolls out on wheels and stays low to the floor, here the trundle pops up to the same height as the daybed. It's great if you need to host a couple that wants to sleep next to each other. Both the daybed and trundle come with slats, so all you have to do is place the mattresses on top. You can buy it in black or white color, depending on your preference.
Price: $389.99 from Wayfair (image source and retailer)
---
2. Ruchi Twin XL Daybed With Drawers, by Gracie Oaks
If you're looking for extra storage space, then you take a look at this lovely Twin XL daybed with drawers. The frame of the daybed is made of solid and manufactured wood, and has a weight capacity of 400 lbs. making it suitable for kids or adults. The dimensions of the daybed are: 33.75″ high x 86.25″ long x 42.75″ wide. There are two drawers on the bottom, perfect for storing clothes or your bedding.
Price: $679.99 from Wayfair (image source and retailer)
---
3. Minka Extra-Long Twin Daybed with Trundle, by Latitude Run
Another great choice for your daybed needs, the Minka Daybed comes fully equipped with durable leatherette and a high-quality trundle when you need more sleeping room. The daybed's sleek design is bound to fit into your overall room look and feel, making it an ideal addition to any room. Made with solid and manufactured wood and a sleek upholstered faux leather, the Minka daybed is both functional and great to look at. Customers share how convenient the daybed is for their relaxation needs, and how the modern design goes great with anything.
Price: $899.99 from Wayfair (image source and retailer)
---
4. Metal Twin XL Daybed with Trundle and Mattresses, by Latitude Run®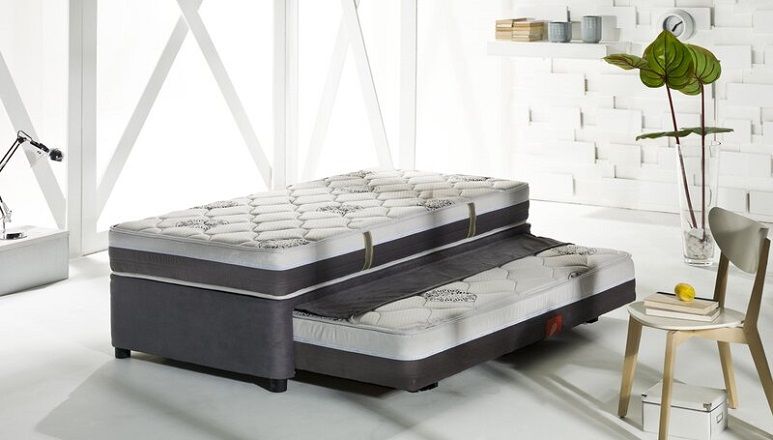 This is our favorite product on the list, because it comes with a daybed, pop up trundle, and two high quality mattresses included in the price. There is a hidden compartment on the bottom, which hides the extra bed. The mattresses are orthopedic innerspring, with microfiber ticking, which many customers have complemented that are comfortable to sleep on. The frame is made of metal and has a weight capacity of 250 lbs. for both the bed and trundle.
Price: $919.99 from Wayfair (image source and retailer)
---
5. Hajek Extra-Long Twin Daybed with Trundle, by Everly Quinn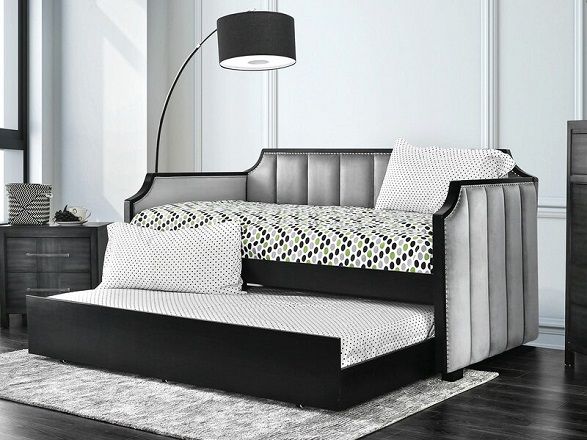 The Hajek Daybed looks like a piece out of Vogue magazine – sophisticated and stunning, the bed is fully upholstered and makes for a comfortable place to rest. The bed comes complete with reinforced wooden slats to keep you supported throughout the night. What's more, the Hajek bed has a trundle that easily pulls out whenever you need it. This means that you'll have an extra place to host a guest, who is staying over. The Hajek daybed comes in two color combinations: beige/black, and gray/black. Customers have noted the daybed's sturdy build and ease of rolling out the trundle as needed.
Price: $1,019.99 from Wayfair (image source and retailer)
---
6. Bewdley Extra-Long Twin Daybed with Trundle, by Red Barrel Studio
The Bewdley Twin XL Daybed has a traditional design that will fit a wide range of bedroom interiors. It's made of sturdy solid wood and wood veneer, with 200 lbs. weight capacity. It can be used as a sofa or a bed depending on your needs. What's more it comes with a trundle unit included, which you can easily roll out and use when you have extra guests. It fits a Twin XL mattress on top, and a twin mattress size for the bottom trundle.
Price: $1,259.99 from Wayfair (image source and retailer)
---
Twin XL Size Heavy Duty Bed Frame, by Crown Comfort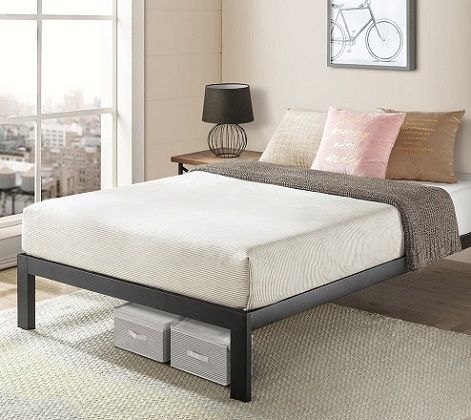 While technically this is a platform bed not a daybed, it's still worth a consideration given its price and compact size. It measures 80″ long x 39″ wide x 14″ high, so you can place a Twin XL mattress on top. It has very strong steel slats and overall sturdy steel construction, backed by 5 year limited warranty.
Price: $134.99 (reg. $149.99) from Overstock (image source and retailer)
---
Orlando Twin XL Platform Bed with Drawers, by Atlantic Furniture
If you're contemplating between getting a platform bed or a daybed in twin XL size, you'll want to take a closer look at this platform bed. It's constructed from eco-friendly solid hardwood with a weight capacity of 600 lbs. It comes with a matching headboard and two large drawers that slide easily on wheels. You can buy it in grey, walnut, white or caramel color, all of which have a non-toxic finish.
Price: $441.14 from Walmart (image source and retailer)
Size and Dimensions of a Twin XL Daybed with Trundle
If you're looking to buy a twin XL daybed with trundle, there are several things you need to consider. First, you need to check that a twin xl mattress (80″ long x 38″ wide) can fit the daybed. Second, double check if the trundle unit can fit a twin or twin xl mattress, since most of the time it fits a twin size mattress. Also, check what is the recommended mattress thickness, which in most cases is 8 inches, and your mattresses should not exceed it. The last thing you should check if the trundle rolls out on wheels and stays close to the floor, or if pops up to the same level/height as the daybed.
Disclosure: This post features affiliate links, which means that we may get compensated for items purchased through our site, at no additional cost to the reader.
Please note: the prices and ratings mentioned in this post were last updated on May 10, 2021. For up to date prices, please click on the link the product.