A loft bed is in some respects similar to a bunk bed but has some notable differences. Loft beds are usually raised by supports that allow you to get the feeling of sleeping high up without having another bunk directly underneath you. They are a popular choice for people with limited floor space, and if you find that you don't have enough space in your room for both desk and a bed, then a loft bed could be an excellent option for you.
How To Choose A Loft Bed?
Loft beds have different designs and are built from different materials. Let's discuss some important features you should be aware of when choosing the right loft bed:
You can find loft beds made of wood or metal, and the style you choose often depends on the aesthetics of your bedroom.
Many loft beds have space underneath for a desk, a bookcase, and even shelves, depending on the design you go for. Loft beds are an efficient way of maximizing space in your apartment and creates extra storage space.
Some loft beds come with drawers, cabinets, and shelves built into the design, so really, you're getting more than one piece of furniture for the price you pay for a loft bed.
Whichever loft bed you choose to buy, make sure you check its dimensions so that you're sure it will fit well in your room. Loft beds are high around 72″, so it's a good idea to measure the ceiling in your bedroom so that you know how much head space you or your child will have when sleeping there.
Lastly, you can find a loft bed in twin size or full size. A twin size fits a mattress which measures 39″x75″, while a full size fits a mattress measuring 54″x75″. If you have a teenager at home you might want to get them the full size, since it will be more roomy and comfortable for them.
Don't forget that children who are younger than 6 years old should not be sleeping on a loft bed. This is a safety guideline, since children under 6 years old are more likely to be involved in a bunk bed or loft bed related injury.
Advantages of Loft Beds:
While they are usually more expensive than regular beds, you should bear in mind that the premium you're paying for the bed is because of the additional storage space and any other pieces of furniture that come with it. One of the reasons that loft beds are so appealing to many is they are space saving, since they make the most of vertical space you have in your bedroom. Besides being beneficial for people who have limited space, this is an excellent option for kids, as the extra space in their bedroom can be used as a play area and gives them room to complete other activities.
Now let's take a look at some of the best Loft Beds with desk you can find online!
1. X Loft Bed over Workstation, by DHP
This is cool and stylish loft bed by DHP, which has a large workstation underneath so your child can use it to do their homework and to study there. The desk is long and large and can accommodate a laptop. The bed is made from metal, and you can buy it in silver or black finish. It's sturdy and has a weight limit of 200 lbs. This is a great multifunctional bed, that comes at a very affordable price. It will be the perfect addition to a teen's or college student's bedroom.
Rating: 4.4/5 stars from over 405 reviews
Price: $235.99 (reg. $309.49) from Walmart (image source and retailer)
---
2. Aime Loft Bed with Bookcase, by Mack & Milo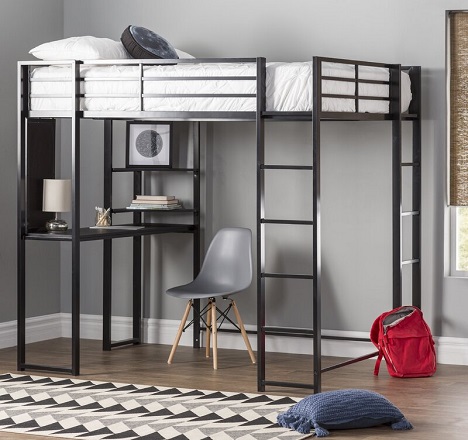 This Aime loft bed with a built-in bookcase is a superb product for those looking to maximize their home space. It's made from metal and you can buy it in black or silver finish. This bed has a sleek and elegant design, with a slatted headboard and footboard. The slat system accommodates your preferred choice of mattress without the need for a bulk box spring, and the inbuilt ladder allows you to get to the sleeping bunk with ease. Underneath the bunk is an ideal space for a home office or play area, and the bookcase and desk built in constitutes exceptional value for money.
Rating: 4.5/5 stars from over 1570 Reviews
Price: from $326.24 from Wayfair (image source and retailer)
---
3. Giusti Twin Loft Bed with Desk, by Mack & Milo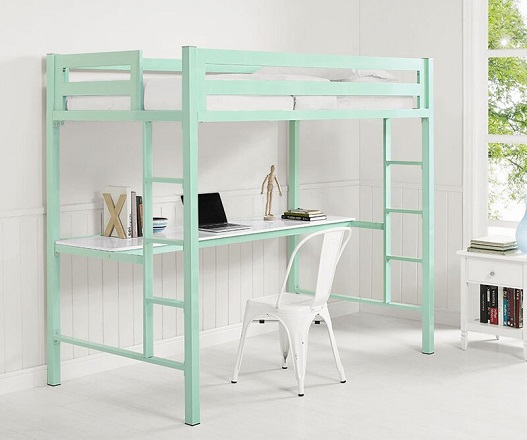 One of the main advantages of this loft bed, is that there are two ladders on each side (headboard and footboard). This creates a more open and roomy space under the bed. Another reason why you'll like it, is because it has a large build-in desk, which is 77.8″ wide. You can buy the bed in a fun mint color or a classic white. It's made of sturdy metal and has a weight capacity of 250lb. It's been painted in scratch resistant powder coated finish.
Rating: 4.4/5 stars from over 120 Reviews
Price: from $474.99 from Wayfair (image source and retailer)
---
4. Roxy Solid Wood Junior Loft Bed with Desk, Shelving, and Bookcase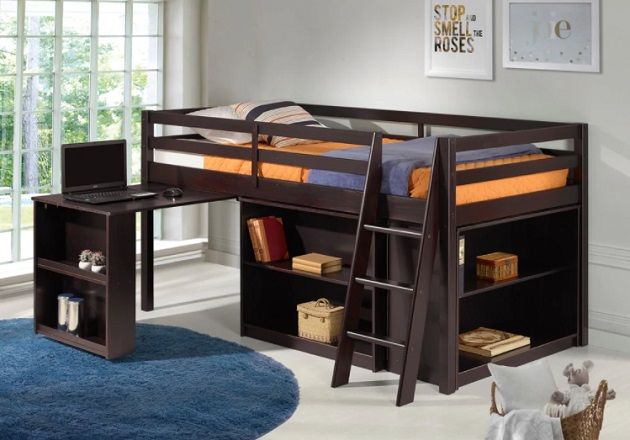 If you have a younger child and would like to get them a loft bed that's lower to the ground, this is a great option. It comes with shelving and a pull-out desk, which can be used for arts and craft projects, homework, doing work on a laptop and more! It's made of solid pine wood and veneers and you can buy it in brown, espresso or white finish. It comes with 1 year limited warranty. It's only 46 inches high and is just three steps off the ground, perfect for young children. It fits a twin size mattress and has a weight capacity of 175lb.
Rating: 4.4/5 stars from over 20 Reviews
Price: from $674.49 from Overstock (image source and retailer)
---
5. Asten Twin Platform with Desk, by South Shore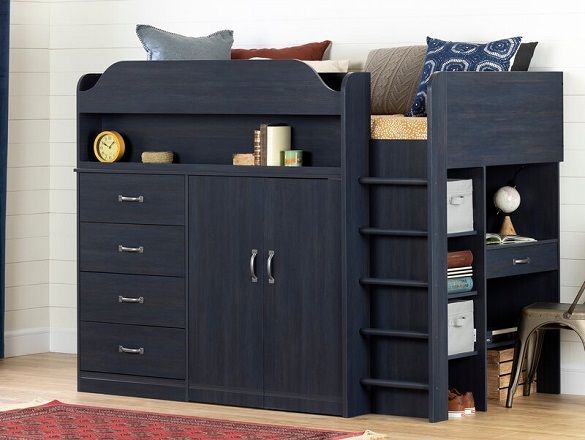 This is an all-in-one bed which includes a twin size bed, desk with a drawer, armoire, four drawers, and several open storage shelves. The desk has a built in drawer so your child can put away their pens and papers there. While next to the desk there are 3 shelves, to store away books or school supplies. It's a perfect space safer, which every parent and child will appreciate. It comes with a 5 year limited guarantee from South Shore, and has a weight capacity of 250lb. So you're sure you're getting a quality product.
Rating: 4.2/5 stars from over 120 reviews
Price: from $989.99 from Wayfair (image source and retailer)
---
6. Ayres Twin Loft Bed with Desk, Drawers and Shelves, by Harriet Bee
This is a high quality bed, made from New Zealand pine wood and has a durable and non-toxic construction. On one side there are four drawers and three shelves, so your child can keep their books, toys, clothes, and other belongings organized. On the other end, there is desk with a drawer where your child can study and do their homework. You can move desk drawer to the inside of the bed, so your child study and can access it under the loft bed. Keep in mind that this bed is 68.5″ high and the minimum recommended ceiling height is 8′ or 86″.
Rating: 4.6/5 stars from over 110 Reviews
Price: from $1,219.99 from Wayfair (image source and retailer)
---
7. Bedlington Loft Bed with Shelves, by Greyleigh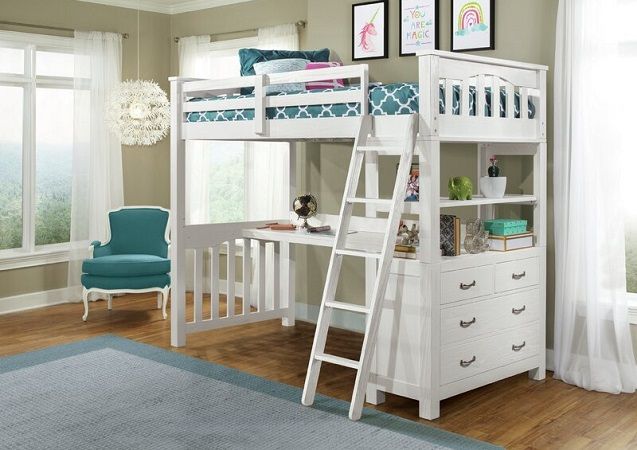 Add some charm to your kid's room with this lovely loft bed. It's made from solid pine wood, and many customers who bought this product complemented it that it's sturdy and will last a long time. It has a built-in six drawer dresser, plus two shelves which can be used for storage. Under the bed there is a large desk that can be used for homework and studying. You can assemble the ladder to the left or right side, according to your space requirements. The bed frame is available in white, driftwood or espresso color.
Rating: 4.4/5 stars from over 120 Reviews
Price: from $1,369.99 from Wayfair (image source and retailer)
---
Other Things To Consider:
You can also get creative with your loft bed. While some come with additional pieces built-in, as has already been discussed, some loft beds are essentially just beds on stilts, and you can curate the space underneath it for any purpose of your choosing. The space can most commonly be used as a home office space where you can work from home on your computer. However, it could even be used as a gaming area or a place where you can do arts and crafts. The beauty of a loft bed is the space it creates, so make sure you utilize it in a way that works for you!
Disclosure: This post features affiliate links, which means that we may get compensated for items purchased through our site, at no additional cost to the reader.
Please note: the prices and ratings mentioned in this post were last updated on January 4, 2021. For up to date prices, please click on the link of each product.