Guest bedrooms are some of the hardest to decorate for. How much effort should you put into the décor? How often is the room going to be used? Can I save space and use it for other purposes when I have no guests? All important questions when deciding how to set up your guest bedroom.
Luckily, the Barham Queen Murphy Bed makes for both a perfect sleeping space, as well as a stylish faux cabinet should you want to use your guest bedroom as more than just a place for your guests to bed down for the night.
Barham Queen Murphy Bed with Mattress, by Canora Grey
As the name suggests, this bed comes in only one size, that being Queen. The frame of the bed is a solid wood construction, and the wood itself comes from Rubberwood trees. This type of wood is typically thought of as environmentally friendly, as it is derived from trees that have already served another useful purpose, making this a good buy if you are worried about sustainability.
Overview:
The Barham cabinet bed is made of solid rubberwood.
The weight capacity of the bed is 500 lbs.
It's only available in queen size (two people can sleep there comfortably).
A 6 inch mattress is included with the bed.
The mattress has a "medium comfort level" and is comprised of memory foam and a layer of cooling gel.
The wood finish comes in a handful of colors: cherry, chocolate, grey or white. This color variety allows you to match your room's décor that much better.
When it's not used, this murphy bed looks like a faux cabinet. You can easily convert it into a queen size bed, by removing the top part of the cabinet, and then unfolding the mattress on the base. Another big plus is that your bedding can be folded up with the mattress, so you don't have to remove your bedding each time.
Dimensions:
If you don't have enough room for a regular bed in your guestroom or home office, then buying a cabinet bed with mattress is a great idea. When closed, it looks like a faux cabinet, taking up only a fraction of the space in your room. When you expand the Barham Murphy Bed, it becomes a queen size bed, which comes with a standard queen size mattress 60″ x 80″ already included.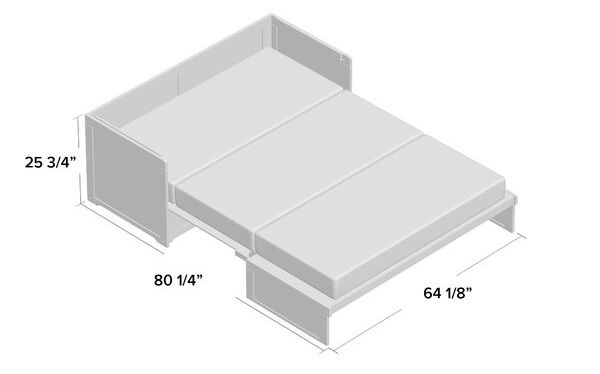 Dimensions as a cabinet are 41.5 inches tall, 64 inches wide, and 24 inches long.
Dimensions as a bed are 25.75 inches tall with the headboard, 64.125 inches wide, and 84.25 inches long.
Tip: If you're looking for a similar bed that comes in twin xl, full or queen size, check out the Solid Wood Storage Murphy Bed with Mattress (you can buy it in Twin XL or queen size) or the Kimsey Solid Wood Storage Murphy Bed with Mattress (you can buy it in full or queen size). Both of them come with a storage drawer and mattress already included.
Delivery and Assembly Information
The Barham Cube Murphy Bed is delivered in two boxes, with the first box having dimensions of 63 inches tall, 11 inches wide, and 11 inches long. The second box is 7 inches tall, 29 inches wide, and 66 inches long. Full assembly is required for this piece, though no additional tools are necessary. Several customer reviews suggest a team of two people be used in assembling the product, as some pieces are rather cumbersome to handle alone. There is no option for professional assembly offered, though you likely will not need it regardless.
Barham Queen Murphy Bed with Mattress Reviews
The Barham Queen Murphy Bed has garnered numerous positive reviews from customers, with a total rating of 4.8 out of a possible 5 stars. 80 total reviews have been posted, with 62 of these reviews holding the bed at 5 stars, with the remainder of the reviews sitting in the 3- and 4-star range.
Pros
Numerous positive reviews for the bed have been posted, with customers even leaving photos of where they have placed the bed in their home to show how it meshes with their décor.
Many reviews praise the space saving properties of the bed.
Assembly of the bed was noted too not be overly complicated.
Storage is also praised as a sheet, mattress and pillows can all be stored within the piece in its cabinet form.
Cons
There are no strictly negative reviews posted for the bed, though there are a handful of complaints that customers disclosed in their three- and four-star reviews.
Some customers have expressed difficulty in having the mattress lay flat on the bed, and thus not being as comfortable as desired.
The mattress included with the bed is also noted as being somewhat firm, so keep this in mind when deciding.
The weight limit has been marked as disappointing, though it does go up to 500lbs.
Bottom Line – Is It Worth Buying?
The numerous positive reviews earned by this bed mark it as a quality piece of furniture, well suited for your guest bedroom. Coming in at $2,349.99 it can seem rather expensive, but keep in mind that there is a mattress included with the bed, removing the burden of a mattress purchase from your wallet. Keep in mind that the bed only comes in one size, so it lacks the flexibility of other bed options, though being able to fold into a stylish cabinet should make up for this static sizing option. Overall, the quality of the bed and the numerous positive reviews given for it mark this as a worthwhile addition to your guest bedroom.
Disclosure: This post features affiliate links, which means that we may get compensated for items purchased through our site, at no additional cost to the reader.
Please note: the prices and ratings mentioned in this post were last updated on June 21, 2021. For up to date prices, please click on the link of each product.