If you are looking for a style that mixes beautiful neutrals, polished pieces and a chic-inspired design to create a luxurious, Hollywood vibe, look no further than glam décor. From glitter and metallic pieces to patterns and florals, it is easy to create a home that is full of glitz and glamour.
What is Glam Decor?
An airy, luxurious, and extravagant, but at the same time elegant, coordinated and not over the top. This is achieved using materials that glitter, such as metallic, mirrors and crystals. A bold crystal chandelier and table lamps are usually always present. The color tone of the room is usually neutral and includes colors such as: gray, cream, white, black, and pastels. You can decorate just about any room in your home in glam style, including your bedroom, living room, dining room, even a home office.
Are you looking to add a lavish, elegant look to your home? You can start by checking out the following glam decorating ideas.
1. Start With Neutral Shades

Image Credit: Tara Dudley Interiors
When starting with the base of the room, you want to stick with neutrals such as white, cream, gray and black. This way, you can add in your accent shades without creating an eyesore. As for your accents, consider pastels and jewel tones, as they really add a touch of glamour without clashing with the base of the room. Once your room is filled with neutral shades, you can easily add a pop of color if you wish, by adding a colorful accent chair or loveseat in your living room for example.
If you're decorating your bedroom, add a bedroom bench in velvet upholstery with chrome or golden legs. One example is the Manuel Upholstered Bench, by Wayfair priced at around $430. It's available in navy, cream, black, green, pink or gray colors.
2. A Little Shimmer and Shine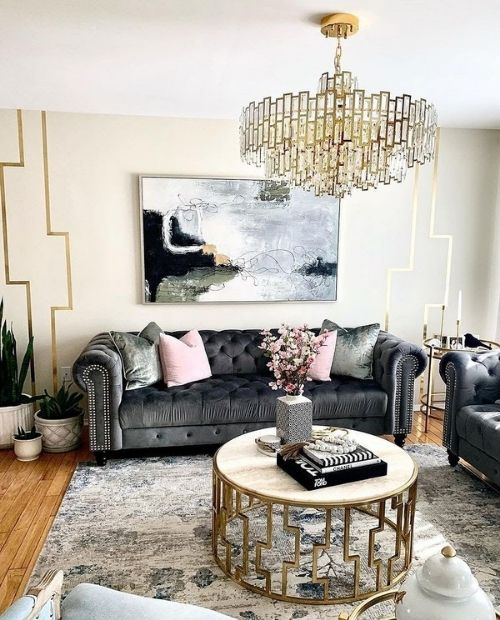 Image Credit: Home_Decohh 
What is a glamorous space without a little shimmer and shine? From glitter to metallics, you want to highlight your space with light-catching materials, but be careful not to overdo it. There are many ways to add metallics to your home, from picture frames to furniture legs. You can even look into coffee tables, large mirror frames, storage solutions and chandeliers with metallic surfaces. As the light reflects off your metallic pieces, your space feels bigger and brighter.
If you're decorating your bedroom, consider getting a pair of mirrored nightstands. Or if you're furnishing your living or dining room, consider a mirrored sideboard or buffet table. They will add another dimension to your space and will easily upgrade your room.
3. Play With Patterns and Textures

Image Credit: interiorbyvanessa
Patterns and textures are staples of glam décor, and you want to go big when adding these elements to your space. Imagine a Hollywood bedroom with overlapping geometric shapes on the carpet, as well as on the large mirrors. Now, the geometric shapes are better suited for a high-contrast color palette. If you are focusing on pastels for your glam-inspired bedroom, you want to add in softer patterns through your bedding and upholstery.
As far as the textures go, consider adding a velvet furniture piece in your room, or adding a fur rug, throw blankets, or chair cushions. Marble is considered a luxury material, so consider adding a marble or if you're on a tight budget a faux marble dining table or coffee table.
4. Add Elegance With Polished Pieces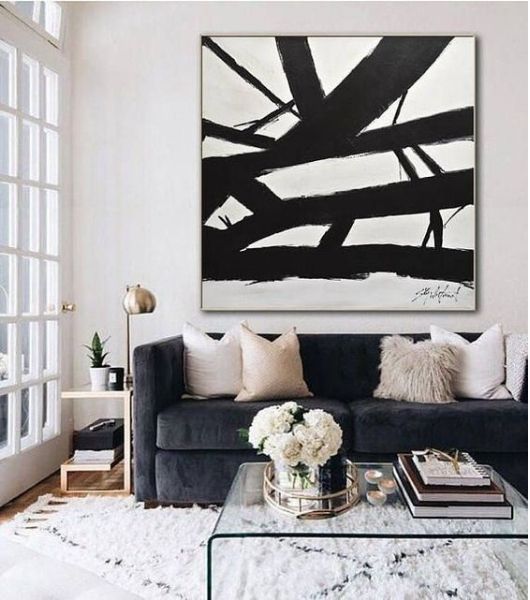 Image Credit: Pinterest
You cannot create a glam room without your polished, elegant decor. For a high-contrast color palette, you want to stick with pieces that make a huge impact, such as a large patterned rug, large mirrors with sunburst rays and oversized paintings. If you are working with pastels, you may want to use decorative vases, picture frames and throw pillows to add a touch of elegance to the room. This way, you are adding metallics, patterns and texture regardless of the palette.
5. Finish The Look With Soft Florals

Image Credit: Digsdigs
Flowers are a great addition to just about any room design, and a glam room is no exception. Finish off the look with soft florals such as roses and peonies in simple vases. As for the placement, this is going to depend on the room, but you can place your florals on your dining table, nightstand or coffee or end table. In fact, soft florals in a vase is the ideal centerpiece for various table settings.
With the gorgeous palettes, light-catching materials and overlapping patterns, it is easy to create a Hollywood-inspired home with glam decor.