Having a convertible chair in your home is very practical, because it can be used for seating or you can expand it and use it for sleeping when you have guests over. Convertible chairs are super functional and they will look great in a living room, guest room, kid's or teenager's room, or even in a man's cave!
Some convertible chairs can have their back reclined in several positions, which means that you can lounge back and watch a movie or read a book. Usually they ship in one box, and the only assembly you'll need to do is add the legs and wheels on the bottom. Convertible chairs are another alternative to having a sleeper futon or sofa, however they take up much less space. There is a wide range of convertible chairs available online, with prices starting from just $150, so you're sure to find one that matches your style and budget!
Disclosure: This post features affiliate links, which means that we may get compensated for items purchased through our site, at no additional cost to the reader.
1. Onderdonk Convertible Chair, by Wrought Studio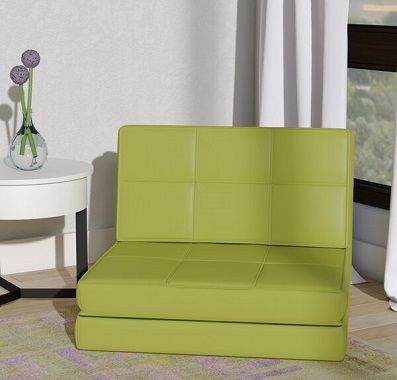 This convertible chair comes at an affordable price and will look great in just about any room in your home. It's perfect for lounging, since it has five positions to choose from, or simply convert it into a bed so you or your guests can sleep on it. It has a natural wood frame, it's upholstered in faux leather, and is filled with 6 inches of plush foam, for added comfort. Plus it comes in 3 fun colors: green, orange and blue which will freshen up your room in no time. The dimensions of the bed are 29″ W x 83″ D, when fully expanded.
Price: $143.99 – $152.99 from Wayfair (image source and retailer)
BUY NOW
2. Bolen Convertible Chair, by Corrigan Studio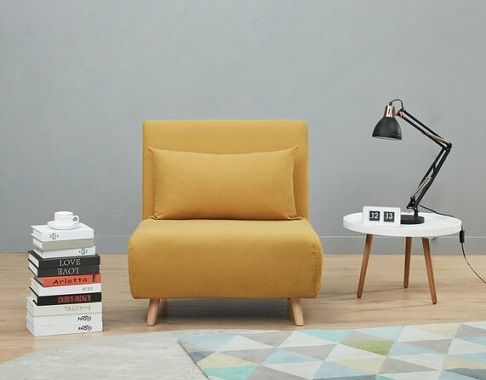 This is a beautiful and modern convertible chair that's available in 4 colors: grey, charcoal, yellow/mustard, and blue. The back of the chair can be pulled back and clicked into 3 preset positions. When fully converted, the chair becomes a single size bed with dimensions 30.31″ W x 78.8″ L. The frame and legs are made of solid wood. Comes with a pillow that is removable.
Price: $197.99 from Wayfair (image source and retailer)
BUY NOW
3. Cheltenham Convertible Chair, by Ebern Designs
This convertible chair combines comfort, quality and style together.  It has tufted back and seating, it's filled with high density foam, and has wooden oak finish legs. The chair can be fully reclined back, however if you want to have an adult sleep there comfortably you'll need to get two chairs. Simply pair and connect the two chairs using a simple hook and loop fastener, fully recline both chairs and you'll have a comfortable bed ready for guests. Available in: ivory, black, teal, or red.
Price: $219.99 for one chair or $439.99 for two from Wayfair (image source and retailer)
BUY NOW
4. Aaronsburg Convertible Chair, by Grovelane Teen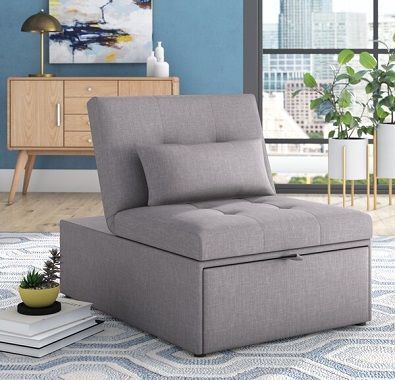 This convertible chair is comfortable to sit on, to relax and watch a movie on, or to sleep on when you have guests visiting. It's crafted from metal and manufactured wood, and has a click mechanism that allows you to adjust the back into 3 different positions: upright, flat and the reclining position (which is between the two). It requires very easy assembly, simply add the four legs and wheels to the chair and you're ready. Comes in beige, black or grey color.
Price: $299.99 from Wayfair (image source and retailer)
BUY NOW
5. Shayne Convertible Chair, Ivy Bronx
This chair has a mid-century design and is available in 8 beautiful colors.  If you prefer faux leather, then you can choose from: black, grey, red, or white. Or if you prefer polyester twill material, you can choose from: grey, orange, yellow or teal. It has deep tufted back and seating, heavy duty springs and support foam, for a comfortable sitting or sleeping experience. Please keep in mind that, when converted into the sleeper position it only measures 25" W x 33" D, which is appropriate for a child, not an adult.
Price: $329.99 from Wayfair (image source and retailer)
BUY NOW
6. Gold Sparrow Tampa Fabric Convertible Big Chair Bed
This convertible chair has a modern and contemporary look and is available in ivory or grey color. The frame is constructed from durable wood, it has metal legs, and it's padded with a tick layer of foam for comfort. The best part is that it has several reclining positions, plus once converted into a bed, it transforms into a wide single bed with dimensions: 78.74W x 39.76D x 9.5H in.
Price: $356.91 – $361.05 from Hayneedle (image source and retailer)
BUY NOW
7. Kriemann Convertible Chair, by Red Barrel Studio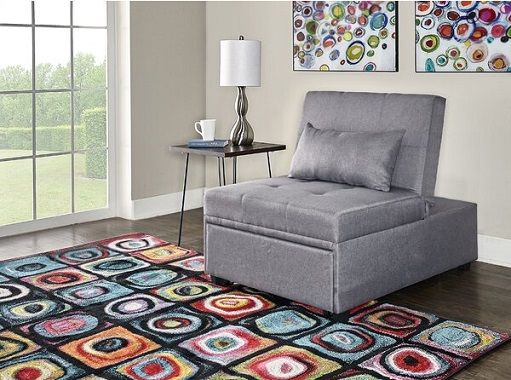 This is a stylish convertible chair, which you can use for sitting, lounging or sleeping. It's available in grey color, and is upholstered in 100% polyester, which has a silky texture to it. It's constructed from metal and MDF, and has very easy assembly – simply attach the legs and the coasters, and you're all set to use it.
Price: $419.99 from Wayfair (image source and retailer)
BUY NOW
8. Cirrus Convertible Floor Chair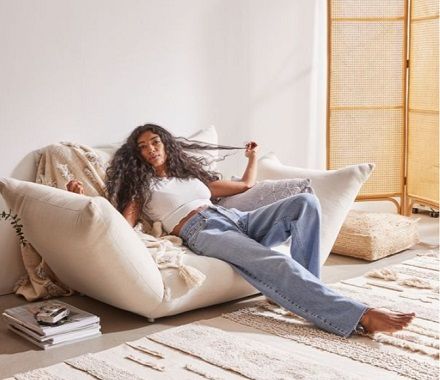 This is a cozy, low to the ground convertible chair, creating a relaxing and chill environment.  It's upholstered in linen and is available in ivory color. It's easy to move and fold down, and converts into a bed when you have guests sleeping over. The dimensions of the bed when folded down are: 77.95" L x 48.82" W x 8.66"H.
Price: $499.99 from Urban Outfitters (image source and retailer)
BUY NOW
9. Dixie Supreme Convertible Chair, by La-Z-Boy
This is a comfortable and very versatile chair, which will surely become one of your favorite furniture pieces at home. As a chair it provides ample seating room with a patented comfort core cushion. Once converted, it turns into a twin size bed with quilted innerspring mattress 5.5″ thick.  Perfect when you have guests sleeping over. The chair comes in color slate, which will easily blend in any room interior. Plus it comes with a 20″ accent pillow, adding an inviting and cozy feel.
Price: $1,799.99 from Wayfair (image source and retailer)
BUY NOW
Please note: the prices mentioned in this post were last updated on November 11, 2019. For up to date prices, please click on the link of each product.