Sleigh beds are a unique type of bed that stands out from the rest – their notable sleigh design makes for an elegant yet comfortable place to sleep, fitting in perfectly with an overall room design. Many sleigh beds also have a signature tufted design, elevating the style of the bed and giving it a more modern, royal look and feel.
With these types of beds, the headboard and footboad are scrolled and there is button tufting on both the head and footboard (or in some cases just on the headboard).
How to choose a tufted sleigh bed?
There are several things you need to consider before you decide on the best bed for your home.
First you want to check what mattress size the bed fits. Usually you can find lots of queen, king and California king size tufted sleigh beds, with twin and full sizes much harder to find.
Secondly, check the overall dimensions of the bed. Since most have scrolled headboards and footboads, this will make them longer than regular platform beds for example.
Other things to you should look for include the type of upholstery fabric, for example, if it's velvet, linen, or polyester.
Another small detail you may want to check before you buy the bed, is if the tufting is made using buttons or crystal like (rhinestone) buttons.
When it comes to choosing the right tufted sleigh bed for you, there are plenty of available options to pick from. But which ones are the best? Luckily, we've done all that work for you!
Keep reading to see the best 7 tufted sleigh beds available that will take your bedroom to the next level:
1. Steve Silver Co. Swanson Upholstered Sleigh Bed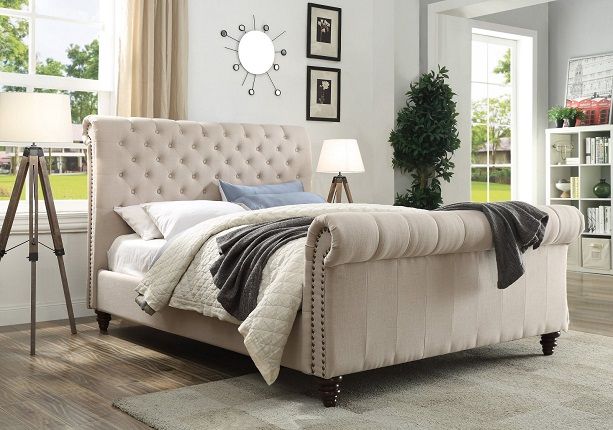 This Swanson sleigh bed is upholstered in a neutral sand color, which will go very well with wide range of bedroom interiors. It has a tall tufted headboard, which measures 53 inches in height. Both the headboard and footboard panels are rolled and have antique brass nailhead trim details on the sides. It's one of the best priced beds on our list, offering great value to customers.
Sizes: queen, king
Price: $669.52 from Walmart (image source and retailer)
---
2. Ballwin Tufted Upholstered Sleigh Bed by Greyleigh™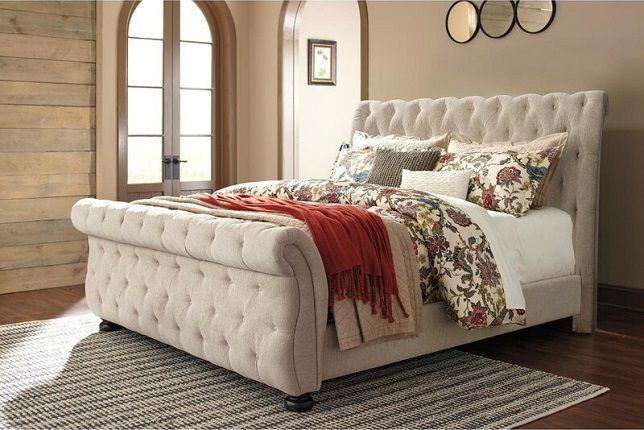 The Ballwin Upholstered Sleigh bed is your classic take on the sleigh bed layout – tufted upholstery made with soft linen set the stage for the comfort and elegance the bed promises. It comes in a neutral nude tone that fits in perfectly with your overall design, matching other furniture seamlessly in the process. The textured headboard and footboard add to the overall design of the sleigh bed, making it ideal for your master bedroom. This furniture piece is made in the USA and comes with 1 year warranty. Customers rate the Ballwin sleigh bed highly – it currently is rated 4.7 out of 5 stars with over 300 reviews to date.
Sizes: queen, king
Price: from $889.99 from Wayfair (image source and retailer)
---
3. Rochdale Bed, by Rosdorf Park
The Rochdale Bed is another ideal sleigh bed choice – the velvet exterior makes for a smooth and soft foundation to a great-looking bed frame. It comes in two colors, gray and black, giving you options to choose what's best for your unique taste. The headboard and footboaded are both tufted with crystal-like studs, and there are silver nailhead trims on the sides. The bed is easy to assemble, allowing you to use it almost immediately upon delivery. You'll be amazed at how well you sleep with the Rochdale Bed, and anyone who sees it will be impressed with its elegant design.
Sizes: queen, king, California king
Price: from $1,059.99 from Wayfair (image source and retailer)
---
4. Jackie – Crepe Bed, by Fairview Home
The Jackie Crepe Bed adds a bit of royalty to your bedroom: the high headboard and creped footboard create a modern bed that elevates the whole room. It's hand-tufted throughout the interior, with plush padding for a cozy place to rest. The headboard is 64 inches high, while the footboad is 32 inches high, making the bed a true statement-maker. The Jackie bed is also highly supportive, you can use it with an adjustable base or a box spring for ultimate durability.
Sizes: queen, king, California king
Price: from $1,069.99 from Wayfair (image source and retailer)
---
5. Matos Tufted Upholstered Sleigh Bed, by Rosdorf Park
If you're looking to add a pop of color to your bedroom, you can order the Matos sleigh bed in blue, as well as more neutral colors like gray and black. The bed is upholstered in velvet and is filled with foam, so you can comfortably rest against the headboad and read a book or watch TV. The frame is made from solid and manufactured wood, and can has a weight capacity of 650 lbs. If you own an adjustable bed, you'll be able to use it with the Matos bed without any problems.
Sizes: queen, king
Price: from $1,096.66 from Wayfair (image source and retailer)
---
6. Furniture of America Cown Contemporary Flannelette Tufted Sleigh Bed
This luxurious bed by Furniture of America is sure to add glamour and elegance to your bedroom. Here both the headboard and footboad are tufted with crystal like (rhinestone) buttons. It's upholstered in velvet and you can choose between two colors: black or grey. The ends are rolled and there is nailhead trim outline on the sides. The whole bed is supported by solid wooden legs, which match with the bed very well. The product is backed by a 90 day limited manufacturer warranty.
Sizes: queen, king, California king
Price: from $1,522.99 from Overstock (image source and retailer)
---
7. Furniture of America Brev Rustic Beige Fabric Button-tufted Sleigh Bed
Here you have a very different, but still elegant sleigh bed in a rustic traditional style. Here the headboard is quite tall, measuring 71.5 inches in height. The bed is upholstered in microfiber fabric and comes in beige color. The headboard and footboard have button-tufted detailing and there are moulded trim details on the sides of the wooden frame. The frame is crafted from genuine wood, which makes it a durable and sturdy bed. It comes with 90 day limited warranty, but you can purchase additional protection from Overstock at the checkout page.
Sizes: queen, king, California king
Price: from $1,902.29 from Overstock (image source and retailer)
Disclosure: This post features affiliate links, which means that we may get compensated for items purchased through our site, at no additional cost to the reader.
Please note: the prices and ratings mentioned in this post were last updated on May 20, 2021. For up to date prices, please click on the link the product.