From Orren Ellis comes the aesthetically stunning Abner Upholstered Sleigh Bed, a frame that allows you to modernize your bedroom and enjoy this unique design. The headboard comes with a horizontal LED light with remote control, so you can set the mood lighting in your room. With sixteen colors to choose from, it makes for a unique and pleasurable addition to the bed frame.
Abner Upholstered Sleigh Bed, by Orren Ellis
Made from manufactured wood and upholstered in faux leather, it's a striking design that lends itself to daring interiors. You can choose which size to order, selecting anything from a twin through to a California King. You can also select your frame in one of several colors, with the white/black and the dark gray designs proving to be extremely popular with customers.
Overview:
The bed frame is made from manufactured wood and upholstered in faux leather.
There are 16 color LED lights located on the headboard.
A remote control is included so you can change the LED lights.
Comes with 30 day limited warranty with option to purchase 5 year protection plan.
Overall, the Abner upholstered sleigh bed offers an exciting and modern design, that can transform the interior of your bedroom.
Dimensions:
The Abner Sleigh Bed is available in five sizes: twin, full, queen, king and California king. This gives you lots of flexibility in finding the right size whether you're shopping for a kid's room, master bedroom or a guest room. For all the five sizes the headboard is 25″ high. The length and width of the bed will vary and are listed below:
Twin size: 50″ wide x 82″ long. Weight Capacity is 200 lbs.
Full size: 60″ wide x 82″ long. Weight Capacity is 300 lbs.
Queen size: 66″ wide x 86″ long. Weight Capacity is 350 lbs.
King size: 82″ wide x 86″ long. Weight Capacity is 450 lbs.
California king size: 79″ wide x 90″ long. Weight Capacity is 450 lbs.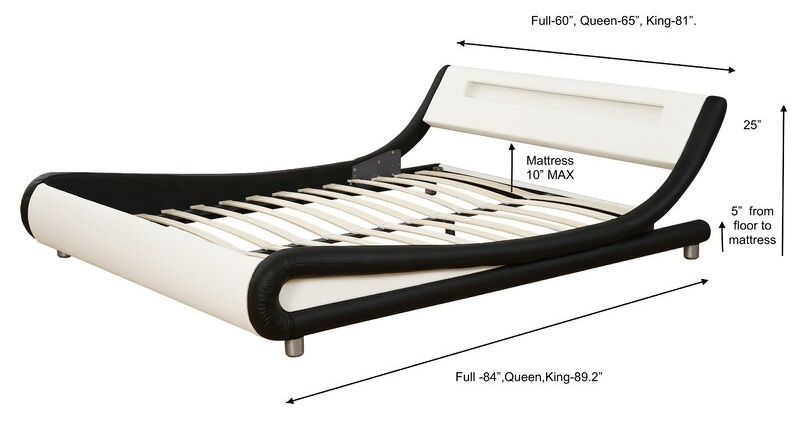 A prominent feature of the frame is that it is particularly low, rising only five inches above the floor. While mattresses are sold separately, the Abner best supports a maximum mattress height of 10-11.5 inches. If your existing mattress is higher than that, it will cover part of the headboard. In this case you might want to consider purchasing a new mattress to complement the frame. On the other hand, the minimum recommended mattress height of this bed frame is 8 inches.
LED Lights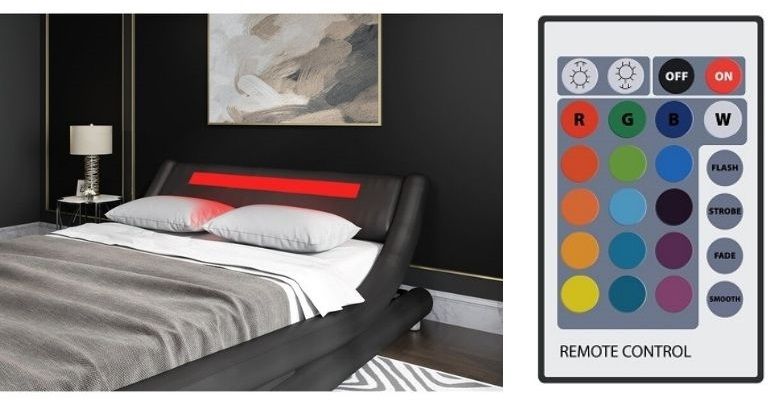 When you purchase the Abner Upholstered Sleigh Bed, it will come with a remote control so you can change the LED lights located on the headboard. There are a total of 16 LED light colors to choose from, so you can create various moods within your bedroom. The LED (Light-Emitting Diode) lights of the sleigh bed need to be plugged into a power socket to work. In case they get damaged, they can easily be replaced with new ones. You can also check out the Lafever Upholstered Sleigh Bed, which is also sold by Wayfair and has LED lights built-in.
Assembly Information:
When ordered from Wayfair, the bed requires self-assembly. You'll be provided with instructions on how to assemble the bed or you can pay an extra fee to have it expertly assembled. Many customers have said that it is fairly easy to assemble and that it took them between one to two hours to build the bed.
If you own an adjustable bed, keep in mind that the Abner Upholstered Sleigh Bed is not compatible with an adjustable base. This product comes with slat kit and there is no need for a box spring. Simply place your mattress on top of the slats.
Abner Upholstered Sleigh Bed Reviews
The Abner Upholstered Sleight Bed has more than 1,115 reviews, and scores an impressive 4.5 out of 5.0 stars, highlighting its popularity with those that have purchased it. Many have said that this is a sturdy and solid bed, and that it is very beautiful and modern.
Pros:
From the customer reviews, it's clear that most buyers are very happy with the style of the bed and the fact that it presents something slightly different, thanks to the in-built LED light feature. Those that have bought it tend also to be happy with its height, and consider the fact that it's so low to the ground as one of its best features. It seems that lots of parents have bought the frame for kids of varying ages, and they all seem super pleased with the end product.
Cons:
When looking at the negative reviews, several customers have complained that it was really difficult to put the bed together, claiming it took a few hours and some help to assemble it. As such, quite a few people have said that they wish they had paid for the expert assembly option at check out, as it wasn't worth the hassle that they endured trying to put it together.
Bottom Line – Is It Worthy It?
Overall, it's clear from the reviews and the extremely high customer score, that the Abner Sleigh Bed is regarded as an excellent product for the price. At the time of writing this review this product was priced at $289.99 – $379.99 with a 18% discount. The price will depend on the size and color combination you've chosen. Those who have bought the bed are delighted with the way their new bedroom looks.
Disclosure: This post features affiliate links, which means that we may get compensated for items purchased through our site, at no additional cost to the reader.
Please note: the prices and ratings mentioned in this post were last updated on April 28, 2021. For up to date prices, please click on the link of each product.