A new TV stand to go along with a brand-new television is one of the best feelings. It completely refreshes a room, and serves as the focal point. Ultimately, you'll also want a TV stand that is sturdy and has lots of storage for your different electronics and other items that you want to display or hide behind its doors.
If you are looking for a new TV stand for your living room space, the Lorraine TV Stand is the perfect choice. Ideal for TV's up to 60" in size, it is a great addition to any room.
Lorraine TV Stand for TVs up to 60″, by Three Posts™
The Lorraine TV stand has a rustic, farmhouse look that is modern enough to fit in perfectly with the rest of your room. It's sturdy and spacious, allowing you to decorate and store things to your heart's content. It can safely hold a TV that is up to 60″ and weights up to 75 pounds. Or you can buy a TV wall mount for flat panel TVs, which will actually save you shelf space.
Overview:
There are 2 cabinets and 6 shelves available for storage.
Cable management included.
All six shelves are adjustable.
The TV stand has a weight capacity of 75 lbs.
Comes with 1 year limited warranty.
The Lorraine TV Stand comes in espresso, ashland pine, dark gray and brown, sargent oak and whitewood, and cream and espresso. Each of these colors and combinations are made with a natural wood color variation for a deep and rich color overall. You're bound to find the right color to perfectly fit in with the aesthetic of your room.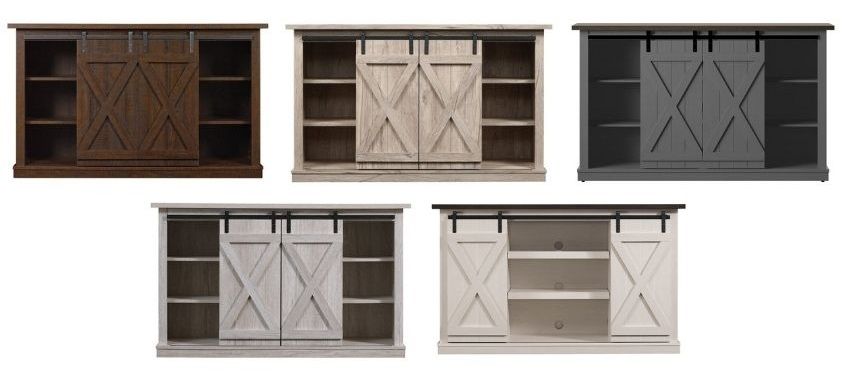 Dimensions:
The Lorraine TV Stand can accommodate TVs up to 60″. If you have a TV that is larger than that you can buy the Lorraine TV Stand for TVs up to 70″, which as the same features and design, but is slightly larger.
Overall dimensions of 54" Width x 32" Height x 15.5" Depth
The two doors are 26.5″ high, and have a sliding mechanism.
The side shelves are 13.8″wide and middle shelves are 22.2″ wide. Their depth is 13.08" and you can adjust their height. You also have the option to remove the shelves, in case you want to store some items that are taller.
The whole TV stand weights 99 pounds, so if you need to move it to a different part of your living room, it's best to ask someone for help when lifting it up.
Additional Information:
The Lorraine TV stand has a tip over restraint included in its design. You can be confident in the safety of the stand and rest assured it will not fall over and damage your items or cause any injuries.
The barn doors slide, allowing you to cover the middle or the sides. There are predrilled cable holes on the middle part, so you can store your gaming console, DVD player, or other electronics that need to be plugged in a power socket. You can use the open shelves to display your books or some decorative items. If you're looking for a stylish sideboard that will go well together, check out our shortlist of the best mirrored sideboards.
As far as the assembly goes, you don't need any special tools for it, just a screwdriver. Many customers have said that the assembly is quick and easy, one person noting that it "took 30 minutes from unboxing to finish". Many people were able to assemble it on their own, taking them up to one hour the most.
Lorraine TV Stand for TV's Up to 60" Review
Overall, the Lorraine TV Stand is a great choice for anyone looking to update their living room – whether for a new TV, or simply for a new look.
Those who have purchased the Lorraine TV Stand have absolutely loved the product: it is rated 4.8 out of 5 stars, with over 53,300 reviews to date. Here are some of the things customers shared about their purchase:
Pros:
Easy to assemble;
Incredibly sturdy and can hold multiple options;
Plenty of spacious storage for media and other devices;
Made with high-quality materials for long-term use;
Safely secures television with enough space for decorations as well.
Cons:
Paint may chip or peel;
There are pre-drilled holes for the middle part only, the side panels don't have cable holes.
Some customers also mentioned some items being damaged upon arrival. If you order this piece, be sure to evaluate each part of it to ensure no damage has been done to the product before assembling.
Bottom Line – Is It Worth It?
The Lorraine TV Stand is a perfect choice for anyone looking to update their living space with a stylish, high-quality piece. It is ideal for long-term use, with plenty of space to store your various items and incredible functionality. Right now, the Lorraine TV stand is priced between $217.99-$289.99 depending on the time of purchase. Consider this piece if you are looking for a highly-rated, reliable addition to your space.
Disclosure: This post features affiliate links, which means that we may get compensated for items purchased through our site, at no additional cost to the reader.
Please note: the prices and ratings mentioned in this post were last updated on June 14, 2021. For up to date prices, please click on the link the product. Image sources: Wayfair.