"3 Tier Bunk Beds" or as some call them "3 Bunk Beds" are the perfect solution to a small and cramped kid's room, which needs to accommodate three kids. They feature 3 twin beds, stacked one over each other in a 3 Tier structure. This way you'll have sleeping space for 3 kids, but you'll only need the floor space of one twin bed. It's also possible to find full and queen size 3 Tier bunk beds.
Useful tips before you start shopping:
One thing you should be extra careful of, when choosing this type of bunk bed is the height of your ceiling. Make sure you check if your ceiling is high enough, and that there is enough space to place and use the bunk bed comfortably.
You'll notice that all 3 Tier bunk beds have almost the same design (3 beds stacked one over each other), however there is also an L-Shaped Triple bunk bed (see our number 4 suggestion on this list). As far as the color choices go, you'll be able to find white, grey, black and natural wood finishes, or if you prefer a metal bunk bed, they are available in either black or silver.
As a general rule of safety, kids under 6 years old should not be sleeping on the top bunks. So if you have a toddler or a kid younger than 6 years old, he or she can only sleep on the lowest bunk bed, not the others.
Disclosure: This post features affiliate links, which means that we may get compensated for items purchased through our site, at no additional cost to the reader.
1. Tristan Triple Bunk Bed, by Better Homes & Gardens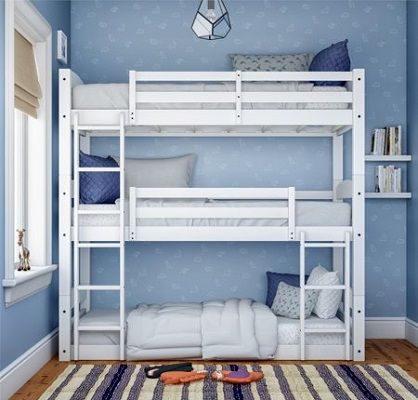 This bunk bed has a modern and functional design making it one of our favorites, plus it comes at a very affordable price! The first reason why we love it is because it has 3 configurations: it can be used as 3 Tier Triple Bunk Bed, but you also have the option to detach it and convert it into a bunk bed and daybed or three twin size beds (see below). This way as your family and household needs change throughout the years, you have lots of flexibility to use it as needed.


It's made of solid wood and engineered wood, and the maximum weight capacity per bed is 165 lbs.
It's available in four colors: white, grey, black or mocha. It comes with 1 year limited warranty.
Dimensions: 79.25" W x 43.5" D x 77.13" H
Price: $349 from Walmart (image source and retailer)
2. Solid Wood 3 Tier Triple Bunk Bed, by Manor Park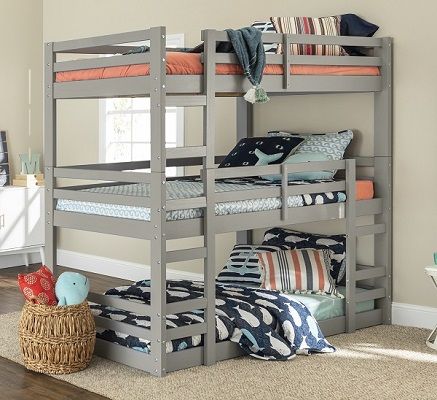 This is another 3 Tier Twin bunk bed, that has a clean and traditional design. Here you get to choose between 3 colors: grey, walnut and white, making it perfect for any girls', boys' or a shared kids bedroom! Here the twin bedrame also has the option to be separated into a low loft and a twin bunk bed. It's made of solid pine wood, for a strong and sturdy construction.
Price: $450 from Walmart (image source and retailer)
3. Cody Triple Decker Bunk Bed, by Furniture of America
This is a metal bunk bed with a contemporary design, that will easily fit in with any bedroom interior. The best part about this bed is that it comes in 3 sizes: twin, full or queen. This is perfect if your kids want to have more sleeping space, you can opt for the full or queen size. The weight capacity for each twin bunk is 180lbs, for the queen size beds it's approximately 280 lbs.
Price: $695.24 – $1,034.99 depending on the size – from Overstock (image source and retailer)
4. Nathan Contemporary Twin Sand Black Bunk Bed, by Furniture of America
This is an interesting 3 Tier bunk bed with a unique L-Shape configuration. Your kids will love using the bed for sleep time, play time or just to chill out and read a book. The L-shape allows for the bed to be placed in a corner of a room, and to maximize the space you have in your kids' room. It's made entirely of metal, and each bunk has approximately 150 lbs. weight capacity. It features black and silver finish details that will look great in any kids' or teens' bedroom.
Price: $701.54 from Overstock (image source and retailer)
5. Hale 3-tier Twin Bunk Bed, by Taylor & Olive
This is another 3 tier twin bunk bed, with the main difference here is that it has 400 lbs weight capacity for each bed (top, middle and bottom). Making it a strong and durable bed for older kids or teens. It's crafted from solid pine wood and comes in brown cappuccino finish. It also has the option to be separated into a twin bunk bed and a daybed.
Price: $625.94 from Overstock (image source and retailer)
6. Arlington Triple Bunk Bed, by Harriet Bee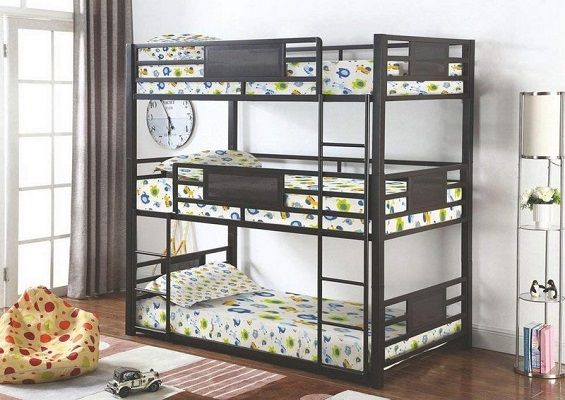 This is a heavy duty 3 Tier bunk bed constructed from steel, where the weight capacity of each bed is 350 lbs. Another reason to like this bed is that you can order it in 2 sizes: twin or full (in case your kids need a little bit more sleeping space). Also it can be separated into 3 beds, which gives you more flexibility to change and use it in different configurations.
Price: $799.99 – $999.99 from Wayfair (image source and retailer)
7. Twin Over Full Over Queen 3 Tier Bunk Bed
This is another great space saving sleeping solution, that features a Twin XL Over Full XL Over Queen Triple Bunk Bed. It's perfect for vacation homes, or large families that need to accommodate 3 or more family members. It's made of metal, has a contemporary look, and you'll notice here that there is only 1 latter, instead of 2. Two companies manufacture three very similar beds (Harriet Bee and Furniture of America), each has a different price and different weight limit.
Price: $1,129.99 – $1,249 from Overstock or Wayfair
Buy for $1,129.99 from Wayfair – Oakengates 3 Tier Bunk Bed
Buy for $1,155.99 from Overstock – Parcels Industrial Triple Decker Bunk
Buy for $1,249 from Wayfair – Prather 3 Tier Bunk Bed
Please note: the prices mentioned in this post were last updated on February 2, 2020. For up to date prices, please click on the link of each product.